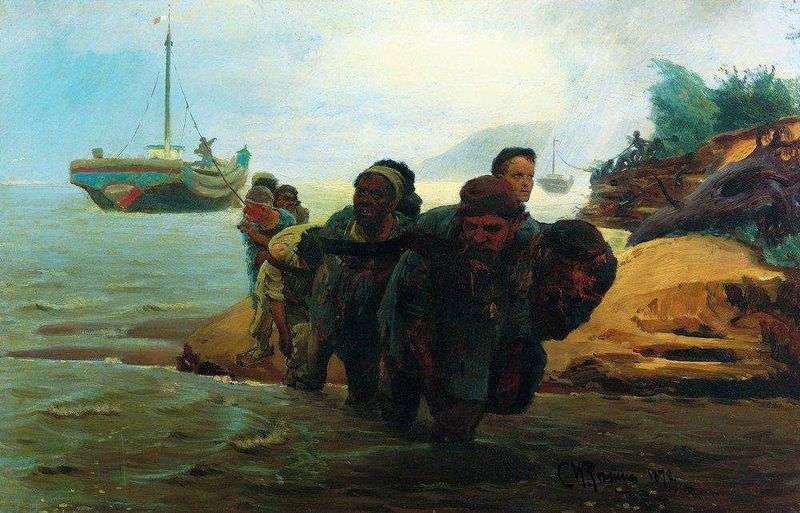 Pictures of Ilya Repin have their own amazing story. The artist carefully prepared the sketches and sketches for the paintings, so sometimes it took more than one year to work on the work. The story of the waders ford has its history, finished in 1872.
After 1870, Repin went to travel along the Volga, where he wrote numerous sketches to prepare for the picture of the boatmen. Wading haulers is an epic picture of historical significance. It shows a group of barge haulers located diagonally.
The picture looks monumental, and the figures resemble a bas-relief. It also affects the commitment of the artist
to the academic direction. But thanks to such a composition, the heavy movement of a group of haulers is felt. If in the picture "Barge Haulers on the Volga", the barge haulers exhausted under the sun appear before the viewer, and recall the difficult fate of the Russian people at that time, in this picture the barge haulers are written in gray soothing calm tones in harmony with the surrounding nature.
Each character has its own character. Here you can see the dying consumptive, and the military lighting up the pipe, and the young boy, still full of strength, and the favorite hero Repin barge hauler Kanin, who at the head of the band already holds the direction with skill and experience. It was in the image of Kanin that the artist showed all the power and strength of the Russian people, his philosophical beginning and wisdom. The band of barge haulers can be visually divided into three groups, which does not make their movement monotonous and boring.
Sailing ship on the background of the Volga landscape creates an epic mood in the picture. The picture is inferior in depth to the first version of the picture of the barge haulers "Barge Haulers on the Volga" by its social content and richness of images, but the work "Barge Haulers Going Ford" surpasses in its complexity of illumination and subtlety of light transmission.