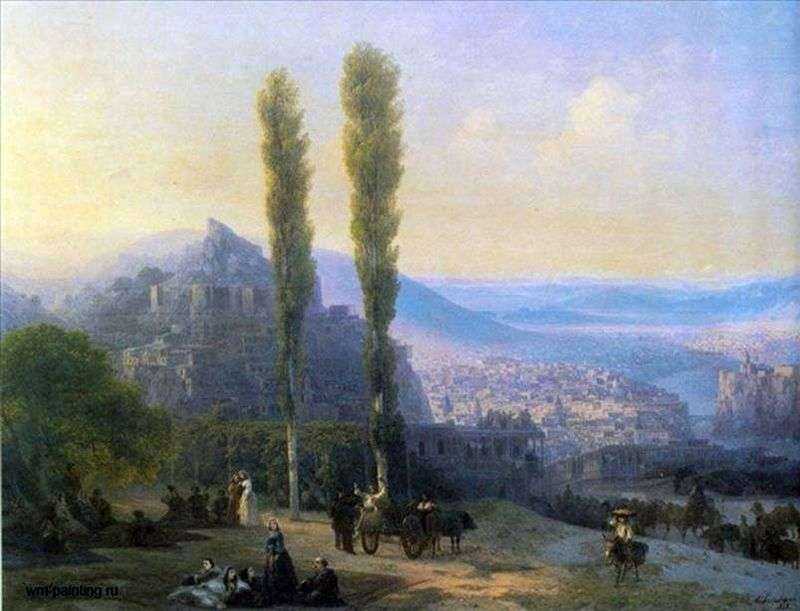 "View of Tiflis" – one of the landscapes of Aivazovsky, written in 1869. The painting depicts the southern city of Tiflis with its unique nature. On the horizon you can see the beautiful majestic mountains that create a special coloring in the landscape. The sky is solemn and grandiose, it seems to merge with the silhouette of the mountains. In the foreground is a group of people.
The sun makes its way through the clouds, and gives them a fabulous look. In the center, two tree trees rush upward with their slender peaks. The picture is filled with cheerful tones. It is dominated by rich green and golden-yellow shades.
The picture is an urban landscape, and in the distance one can see the outlines of knowledge. Thanks to this, we can imagine what Tiflis looked like while writing the picture. Grandiose mountains, luscious greenery – all this is typical for the nature of Tiflis, which lives a special life. Man is in complete union with nature, which can be felt looking at this landscape.
The details in the picture are very important, they emphasize the grandeur of this everyday picture. The artist conveys his attitude to the nature he saw. The picture as if radiates a special glow. The artist experienced joy, with the image of this beautiful southern city.
It is known that Aivazovsky created amazing landscapes, each of which is a special great creation of the master, filled with deep meaning. The artist's paintings create a certain mood and therefore they have extraordinary power. Even in ordinary plots you understand how the master of landscapes loved nature and was in harmony with it.
Thanks to the skillful use of the palette and the shimmering of color shades, every work of the artist has a special sound. We feel the great power of nature, which for the common man remains invisible. Only a true genius has this ability.