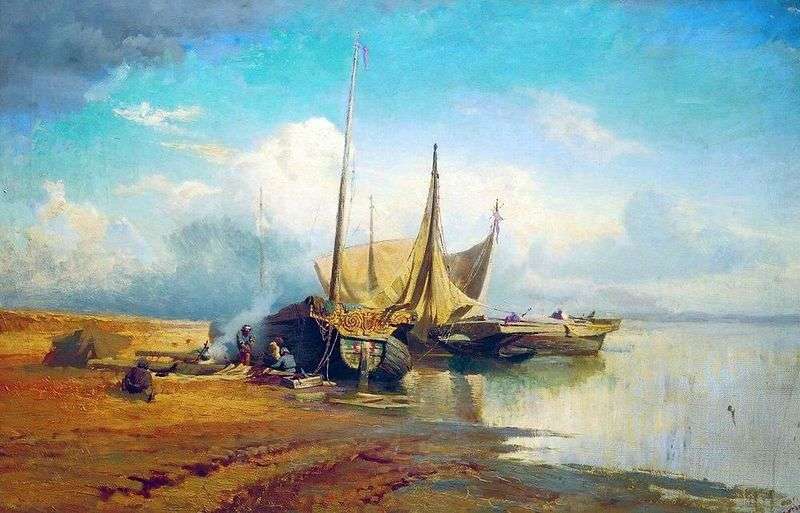 In his painting "View on the Volga, Barki" FA Vasiliev depicted the wide waters of the Volga River. In the foreground we see a deserted beach. The central place in the picture is occupied by merchants, who moored their vessels, and thereby bring revival into the overall landscape. Near one of the ships sit 2 people, and the third is next. It seems that they are cooking food at the stake. This is indicated by the outgoing smoke from the red-hot flame.
Immediately we see a small tent, which indicates that the merchants decided to stay on the bank of the Volga for the night. Perhaps they still have
a long way to sell their goods, so you need a good rest before sailing. Another person sits with his back to the viewer on the stone and admires the nearby landscapes.
Vessels of merchants are very beautiful and noticeable from afar. Carved decoration and bright painting allows them to stand out well against the general background and attract attention. In addition, trade yachts have large snow-white sailboats attached to high spikes, thanks to which they can move very fast on the water.
The author depicted the windless weather. The water in the river is very calm, and its almost glossy surface is reflected by merchant yachts and a beautiful bluish sky with clouds.
The sky in the picture is presented in white, blue and gray shades. At first glance it seems that the weather is expected to be sunny and quiet. But, if you look closely, you can see small thunderclouds, which, like, dark clouds of smoke, gradually try to envelop the sky.