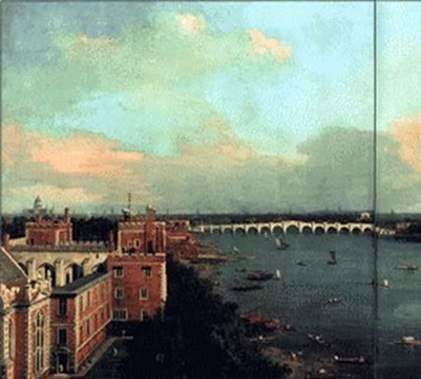 Canaletto's painting, representing the View of London – a vault built on the principle of angular perspective, opens a panoramic view of a wide river, surrounded by impressive buildings. Here the Thames is shown in the early dawn of the hour, when business vanity has not yet managed to cover the coastal quarters, the cumulus clouds are reflected in the dark water, and the pink gleam of the dawn comes into roll with the reddish walls of the palaces.
Light vessels, gliding along the transparent smooth surface of the river, do not violate its majestic rest, they seem tiny compared to the immense water space. High point of view, chosen by the artist, does not allow the viewer to consider everything unsightly and shallow, but gives the opportunity to admire the calm beauty of the distant view.
The morning is cool and permeated with moisture – this is the atmosphere of the northern city, whose colors are restrained and deep, and the air is dense and fresh. The picture creates not a festive, but a lyrical mood, consonant with the early morning of the awakening city. Unfortunately, we could not find a picture of the best quality. If someone has one, then please share it.