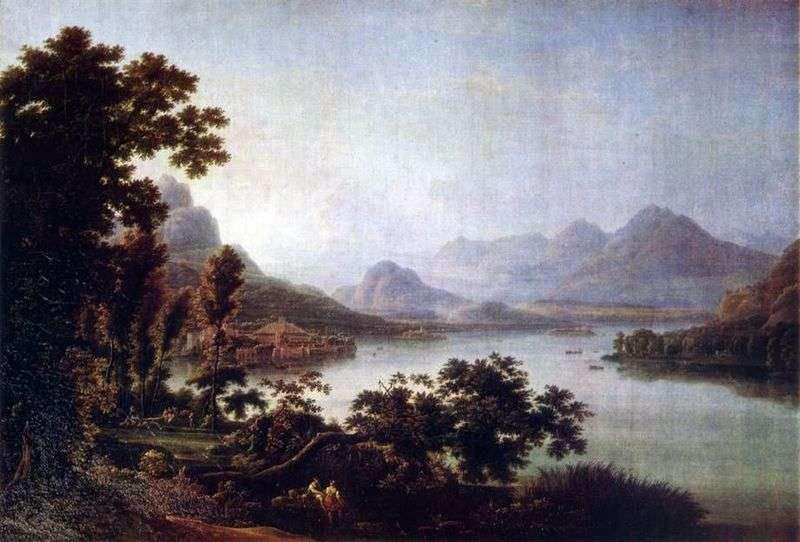 Fyodor Mikhailovich Matveev built his picture as a wide panorama, offering a view of the vast space bounded in the distance by a chain of mountains. Adhering to strict rules of composition, the artist divides the space into three plans. In the front he depicted huge trees and several human figures.
Further to the left and to the right, parallel to the canvas, two capes are issued into the lake, which, like theatrical scenes, form the second plan, softening the transition from the front view to the far one. The details of the second plan are less distinct and are combined in a green tone. The outlines of the mountains in the far third plan dissolve into the blue haze. Matveev Fedor Mikhailovich – landscape painter, son of a soldier of the Life Guards Izmailovo Regiment.
He was educated at the Academy of Arts from 1764 to 1778 and, having completed the course with a small gold medal, remained at the Academy for a year, as her retiree. In 1779, he received a large gold medal and sent abroad. He visited Germany and Switzerland, lived and worked in Italy, in Rome enjoyed the guidance of F. Hackert.
At the end of the business trip, he traveled twice to Italy for a long time, where, thus, most of his life was spent. He died in Rome. Matveev's paintings were once respected not only in Russia, but also in Italy. Of these, you can point to a number of landscapes in the Museum of Alexander III and the Academy of Arts and the Sicilian species in the Moscow Rumyantsev Museum.