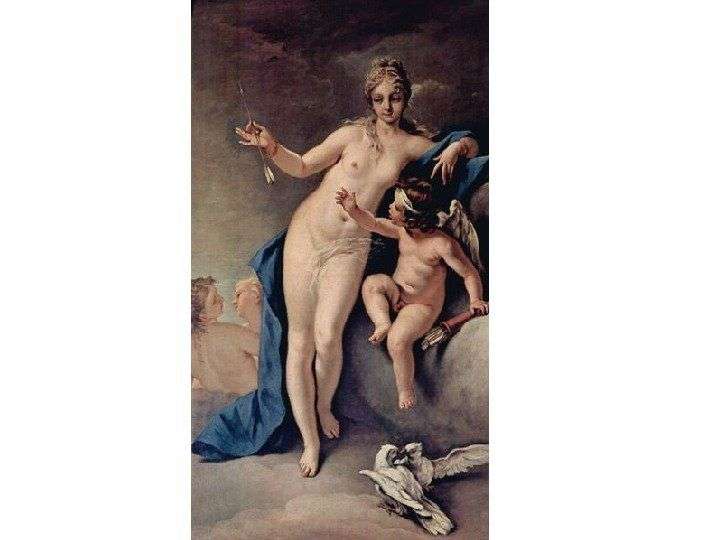 Painting by Italian painter Sebastian Ricci "Venus and Cupid". The size of the painting is 190 x 106 cm, oil on canvas. This canvas of mythological themes with an inseparable couple, Venus, the goddess of love, and her faithful companion Amur, was written by the artist, presumably for the painting collection at Burlington House.
In 1701, the Venetian geographer of Vincenzo Maria Coronelli ordered the painter "Ascension", 580 x 300 cm in size, which was placed on the ceiling of the sacristy of the Basilica of Santi Apostoli in Rome. In 1702, Ricci executed an order to decorate the ceiling of the Blue Hall in Schönbrunn Palace, writing "Allegory of Royal Values" and "Love of Dignity", which were supposed to illustrate the craving for education and enlightenment of the future Emperor Joseph I of Habsburg.
Elector Frederick Augustus I, the ruler of Saxony, being in Vienna in the same year 1702, ordered Sebastiano Ricci the painting "Ascension" with the goal, in particular, to convince others of the sincerity of his transition from Protestantism to the Catholic faith, which allowed him to become king of Poland.
In 1704, Sebastiano Ricci performed in Venice the paintings "San Procolo" for the Cathedral of Bergamo and "The Crucifixion with the Mother of God and Saints John the Evangelist and Carlo Borromeo", for the Florentine church of St. Francis de Massi.