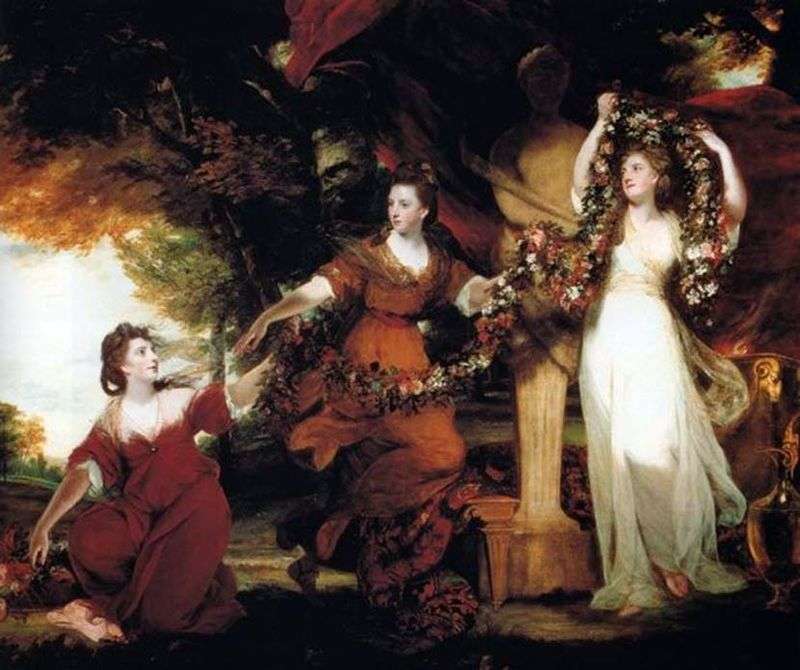 This picture is the largest in format and the most ambitious group portrait of Reynolds. Depicted here, as the name implies, the three sisters of Montgomery, the daughter of Sir William Montgomery – Barbara, Elizabeth and Anna.
This picture was ordered to Reynolds Luke Gardiner, Member of Parliament and fiance Elizabeth, the eldest of the sisters. Gardiner asked the artist to depict the girls in full growth, "representing some allegorical or historical plot."
In May 1773, Reynolds set to work, selecting the plot that best suited to Elizabeth's quick wedding. He decided to show the three sisters adorn the flower garland of terma, topped with a bust of Hymen. Regarding this composition, the master wrote to the customer: "It allows the best way to show the figures and opens up wide opportunities for elegant mythological and historical associations."
The researchers found several sources used by Reynolds during the work. But he made all the borrowings so neatly and out of place that they more than organically fit into the overall fabric of the canvas.