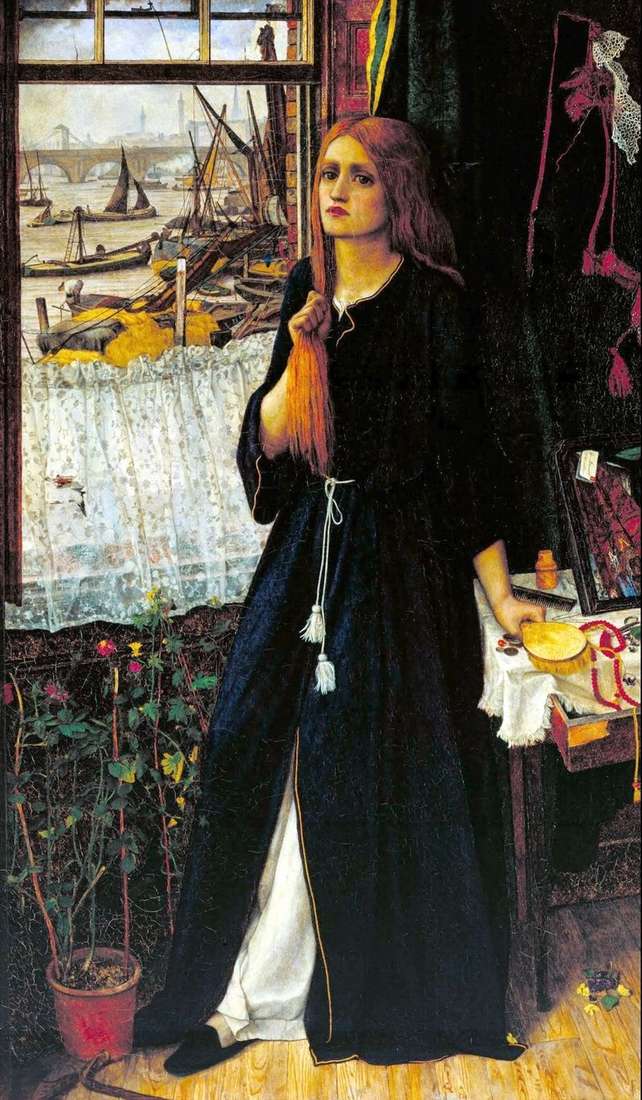 The painting "Thoughts on the Past", exhibited at the Royal Academy in 1859, belongs to the early Pre-Raphaelite period of Stanhope. The artist wrote it in the studio, which he occupied on the ground floor under Rossetti's apartment, at Blackfriars, Chatham Place, 14, apparently wrote under the influence of the canvas "Found," as well as the painting "Awakened Shame" by Hunt. In his diary in the recording of June 21, 1858, George Price Boyes notes: "I went to the Stanhope studio to look at the picture in the work – about two turning points in the life of a fallen
woman."
The second picture, to which Boyce seems to refer here, is "Modern Robin," a scene from rural life, symbolizing seduction and the loss of innocence. Boyce also mentions that he saw the first of the paintings and on his next visit on the first of December of the same year: "I looked to the Stanhope. He was working on a canvas that depicts a lost woman at his vanity in a small room overlooking the Thames.
"Fanny" posed to him. Rossetti got close to Fanny Cornforth in 1858 and wrote the head of a woman for "Found." And even though the face of a prostitute in the picture of Stanhope reveals little resemblance to Cornfort, there is no reason to question that at that time Cornforth posed for Stanhope.
The painting shows a girl in a bathrobe over a nightgown at the window of a beggar's room above the Thames. She combed dejectedly; her brown hair is associated with Mary Magdalene, the archetype of a repentant harlot. A men's Algerian cloak or burnus is hanging on the wall, and on top of it is a crocheted lace collar, a miserable claim to respectability. The window overlooks the polluted Thames and looks upstream, at Hangerford Bridge and Waterloo Bridge, which brings to mind the tragic poem of Thomas Hood's "Bridge of Sighs" of 1844 – about a fallen woman who committed suicide by throwing herself into murky water.