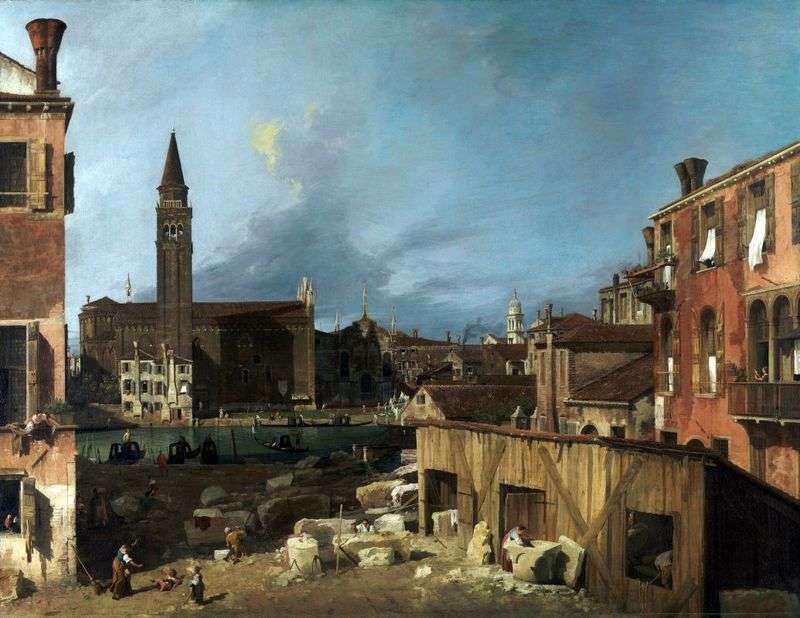 The view of the city backyard is almost nonsense for Canaletto's creativity, and yet – before us is the recognized masterpiece of the artist. "The yard of the stonemason" he wrote in his "successful" 1720s, and all the features of his then-written letter are here – it is a rich color, a wide free smear and skilful chiaroscuro. If the ceremonial views of Venice Canaletto was created, as a rule, for wealthy tourists, then the "Yard of the Stonemason" is most likely ordered by one of the local residents. In the picture, the ball is ruled by the most prosaic, everyday life.
The stonemason works with a stone lump; to the fallen child runs his mother; gondoliers slowly ruled their boats; hung on clothesline, laundry dries. The picture is written from a high point – a reception very characteristic of the young Canaletto.
The time of writing this masterpiece of Canaletto art experts was refined by resorting to an analysis of the technical techniques that were exploited at its creation. In different years, the artist worked with different types of canvas. For the late Canaletto is characterized by the use of a thin canvas – this feature was dictated by his then attachment to the smooth, perfected surface of the picture.
One of the signs of the early period of the artist's work is a freer manner of writing. For her more coarse canvas came up. Another indication for the time of creation is that the canvas here has not been pre-painted in beige and light gray tones, giving a cold shine to the late paintings of Canaletto.
Above the basis of brick color, the artist laid a gray background where water and sky will be written, and a red-orange background in those parts of the canvas where buildings will appear. Above their texture, the artist painstakingly worked – we will cite as an example even the spots of dampness appearing on the walls. They also stop the spectator's attention to the details, written by whitewash in the impasto technique, and the surprisingly thin lines of the balcony.