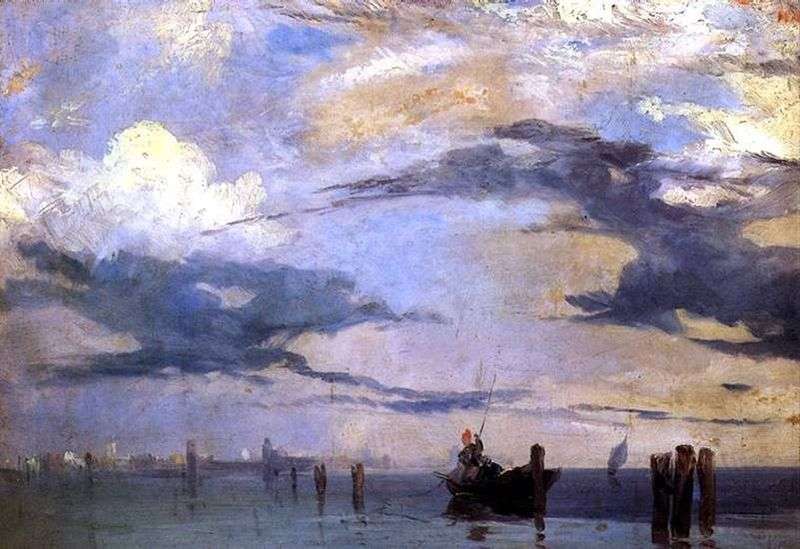 Richard Bonington lived a very short life, yet his name took a worthy place in the history of the English and French landscapes. Contemporaries admired his virtuosic possession of the brush. Such a master, as E. Delacroix, considered painting Bonington precious. From 1817 the artist lived in France. Originally he studied with the watercolorist L. Francia, who continued the traditions of English art. In 1820, Bonington entered the School of Fine Arts in Paris and became a student of A. Gro.
From 1822 he participated in the Paris Salons, a little later – at the exhibitions of the Society of British Artists
and the Academy of Fine Arts in London. In 1824 Bonington traveled to Italy and in the same year met J. Constable, who had a great influence on him.
The picture "Venetian lagoon" is executed on the Italian memoirs and impressions, nevertheless here the artist brilliantly managed to convey a fleeting mood, association, sensation from what he saw; the master's painting is easy and free. Other famous works: "Boats off the coast of Normandy." OK. 1825. The Hermitage, St. Petersburg; "Henry III and the English Ambassador." 1827-1828. The Wallace Collection, London; "Coast in Normandy." OK. 1824. Louvre, Paris; "View in Picardy." The Wallace Collection, London.