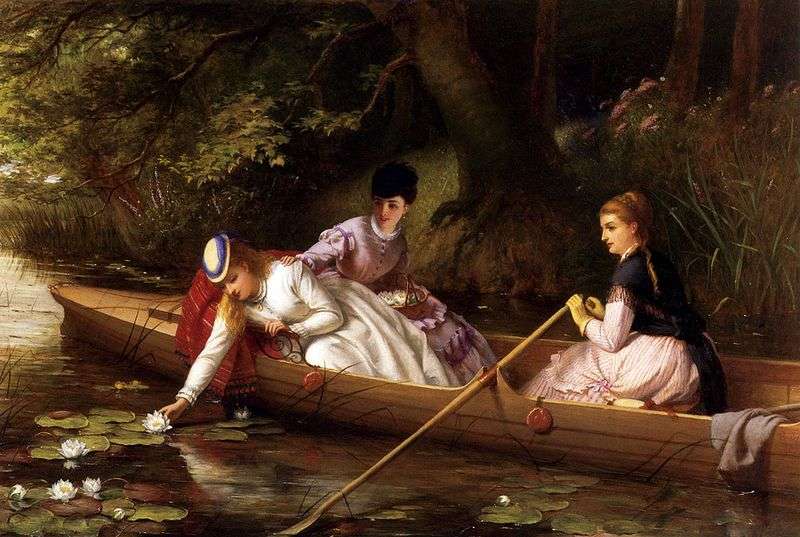 The rather dark and somewhat naive technique of the canvas "Lily of the Thames" belongs to the work of the Englishman Thomas Brooks. It is a model of the Neoclassicism era, with its illusions of a beautiful life and the idealization of reality. Despite the bright idea and sensuality of the moment of contact of the female fingers with a tender lily, the imagination draws a gloomy landscape. Due to the contrast of colors and almost airless space, the picture suggests criticism.
There are a number of inconsistencies in favor of the light source. The viewer sees that a piece of the distant plan is illuminated by rays from the left side, just on the border of the thickets, and the light on the faces of the girls is reflected to the right. Why? Not knowledge of the basics of painting or missed nuance? Now about the plot. It is quite simple to understand and read the "story" about the idle life of the girls of the upper classes of England. A careless walk and silence of the secluded corner of nature are put to sleep a little, pressed with a sticky silence. Girlfriends are modest.
Probably, they are far beyond twenty and the temperament is no longer the one that could paint the joy of a person from a pleasant find. Interestingly the ship is made of wood. The light-wood boat has been carefully carved, decorated, apparently, with monograms, convenient and wide. It seems that it is new, and the girls decided to "run over" it, as is customary. The participants themselves are no less attractive. Brooks paid attention to their outfits and dissimilarities. His brush deftly prescribed small jewelry and folds of magnificent skirts. Here there is a characteristic ornament of English stripes on the fabric, and the first hats-kettles, leather gloves of the color of mustard.
Vegetable elements of Brooks Thomas "groomed" and jewelry prescribed. Each leaf, as in the palm of your hand, bundles of sedge, lilies on pancakes of green leaves – all a lot and qualitatively "grown." Brooks's technique is special. Oil painting of the author differs by recognizable overlay of paint – rubbing to a thin layer on the canvas, a gloss in the shadow of the landscape, an even filling of space. Calm the letter. But the color is truly Brooks – dark, pressing, with a mixture of carbon black, camels and bronzes. Pleases an excellent arrangement of details.
The artist united in work nature and girlfriends, a pond with spots of reflections and a piece of light. The household scene of a quiet walk is not imprinted in memory by eccentricity, does not catch memories, does not attract the eye, but suggests a couple of bright glares and sunny bunnies.