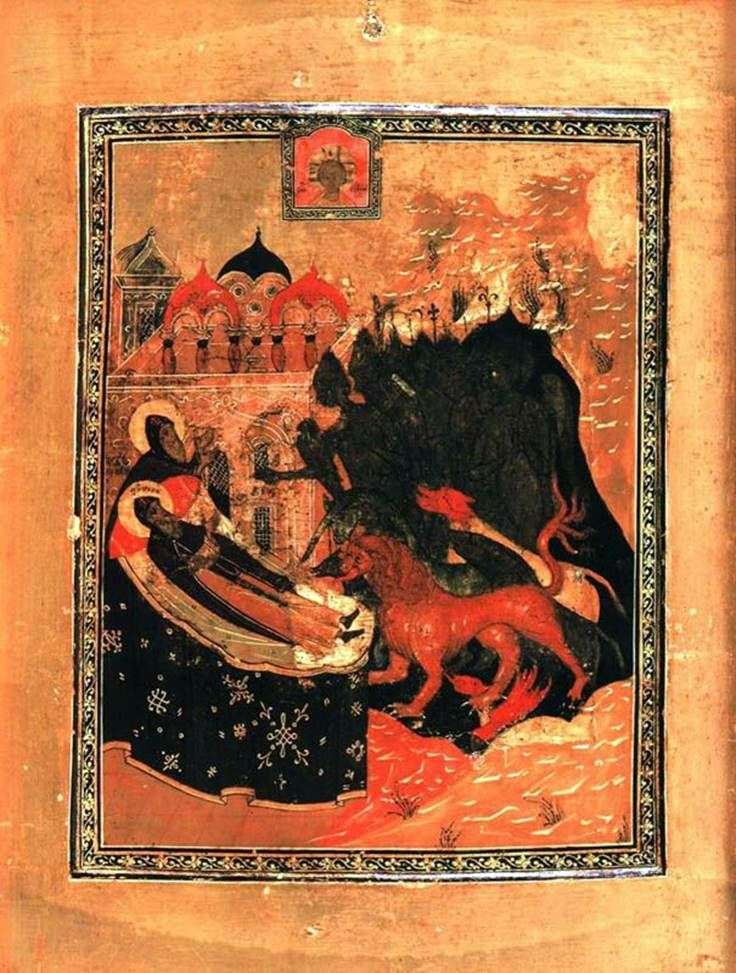 The ancient fragment is embedded in a thin lime board with two oak keys. In the original colorful layer there is an image of the Monk Anthony the Great lying on the bed facing the mountain with a black cave, from which greyish-green demons and various animal-like creatures emerge in his direction.
The icon with a unique plot, apparently, was part of the icon of the icon of Antony the Great. This saint, the Egyptian who lived in the second half of the III – beginning of the IV century, became one of the first monks on Earth and was awarded the deepest veneration in the entire Christian world for laying the foundations of the monastic way of life. He was very popular in Russia, but other examples of illustrating his life in ancient Russian art are unknown.
The icon conveys a number of details, known in Russia from the literary Life of St. Anthony, written by St. Athanasius of Alexandria. This is the cave of the monk in the slope of the mountains facing the Eastern Egyptian desert, and the monastery founded by him standing at the foot of the mountains, on the edge of the desert. Perhaps the images of the fantastic civvies towering above the monastery wall go back to the real multi-domed crowns of the buildings of the monastery of St. Anthony, which could be known to Russian pilgrims.
The icon belongs to the number of monuments characterizing the unexplored and poorly studied phenomena of Russian art of the second half of the 16th century. It represents artistic, historical, cultural, scientific and museum value.