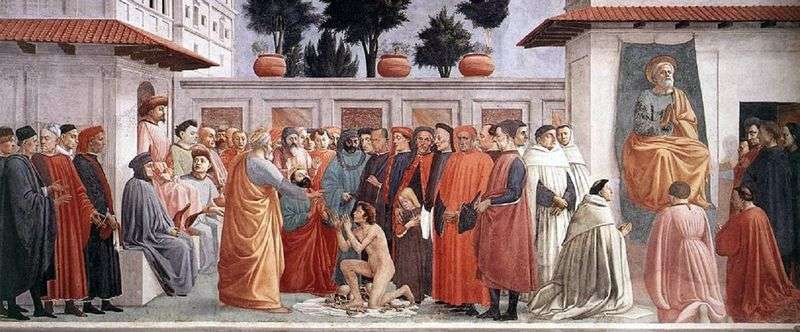 A portrait of a kneeling parishioner as well as possible confirms the enthusiastic words of Vasari about Masaccio's ability to create "surprisingly vital and similar portraits." For this portrait, the artist probably posed for the artist himself, while Masaccio did not idealize him at all. The face and clothes of the customer are written with bold transitions from light to shade, which gives this image volume. Under the fabrics with deep shadows of folds and bright highlights, the real, physically existing human body is vividly felt.
In general, this figure resembles a skillfully fashioned
sculpture. Pictured against the background of the Corinthian pilaster, it takes its specific place in the composition. The persuasiveness with which the artist fills the mural space depends on his understanding of the laws of perspective. But Masaccio went further; he was able to combine knowledge of perspective with his intuitive vision of space and the ability to depict people in a naturalistic way. The rich parishioner praying on his knees is written not only serious and devout, but also quite earthly, as evidenced by such details as a double chin or an ear wrapped under a hat.