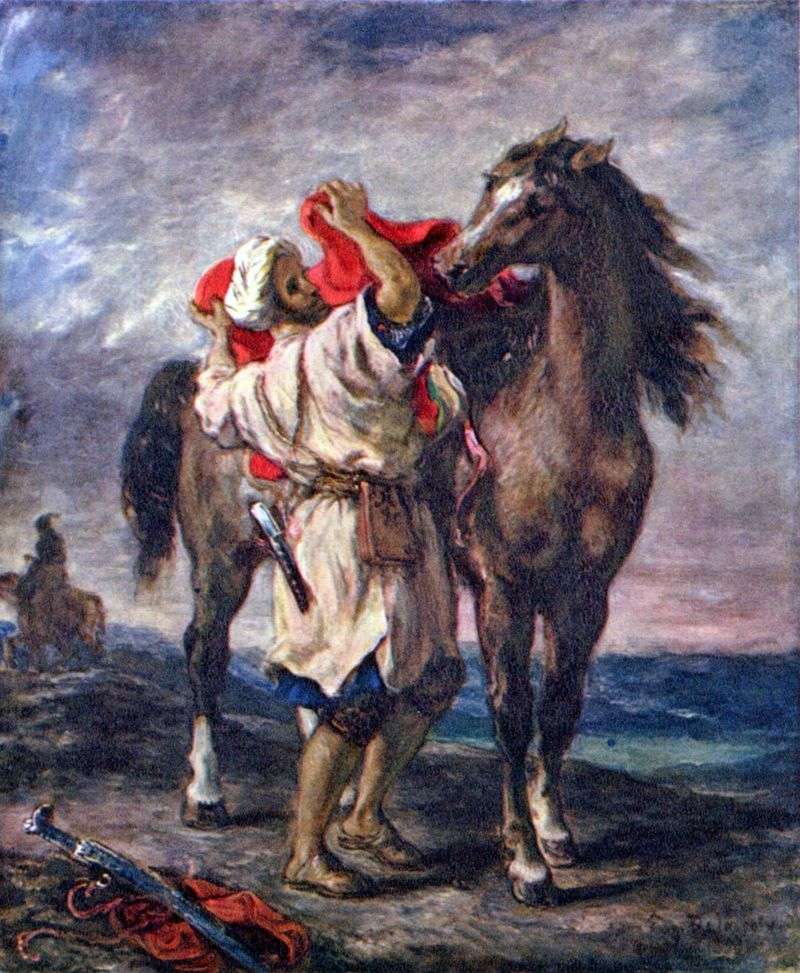 Eugene Delacroix – the brightest representative of the French romantics – in 1832 traveled to Algeria and Morocco, which made an indelible impression on him. Hundreds of sketches, drawings and watercolors made during this trip served as a source of inspiration for the artist. Most of his works are inspired by memories of the months spent in North Africa.
In his Algerian and Moroccan canvases, Delacroix sought not the pedantic accuracy of ethnography, not the petty credibility of types, clothing, customs, landscapes – the true artistic truth was for him the atmosphere of freedom, brightness and fullness of life that struck him in Africa after the dull prosaic nature of bourgeois France. In order to convey the beauty of life of courageous and proud people among the harsh free nature, the artist did not seek to entertain the narrative – the simplest episode he was able to fill with high significance of thought.
This is the "Moroccan riding horse". Vigorous harmonies of contrasting colors, complex rhythms of winding lines, tension of movement and plastics, solidity of the silhouette, strict simplicity of the landscape background create a mood of strong-willed and romantically uplifted dynamics. This power of feeling, free and impetuous painting will be combined with a balanced clarity of construction. It may seem strange that Delacroix, with his indomitable picturesque temperament, especially loved those of his works, in which he managed to bring more inner peace and a complete logical form.
Probably, this explains his love for the compositional motif of the "Moroccan", which he repeated and developed over the years. Already in his youth, in the 1820s, Delacroix found in his aquatinte "Turk, sadding horse" the exact prototype of this composition. Subsequently, he repeatedly returned to her: in the catalogs of the XIX and early XX century, there are references to paintings and drawings of Delacroix, repeating the composition of the youthful aquatinthe, and, consequently, the Hermitage painting. Such paintings appeared in the collections of E. Arago, F. Chumakov, at the posthumous auction of the workshop Delacroix and other sales.
Constant variants of the same motive – an unusual phenomenon in the work of Delacroix, an impulsive and passionate artist with a huge compositional imagination. The Hermitage painting – the only link known to us in this long chain – leads to those obscure sides of the artist's creative laboratory, which until now remain almost unexplored.
The painting entered the Hermitage from the Museum of the Academy of Fine Arts in 1922.