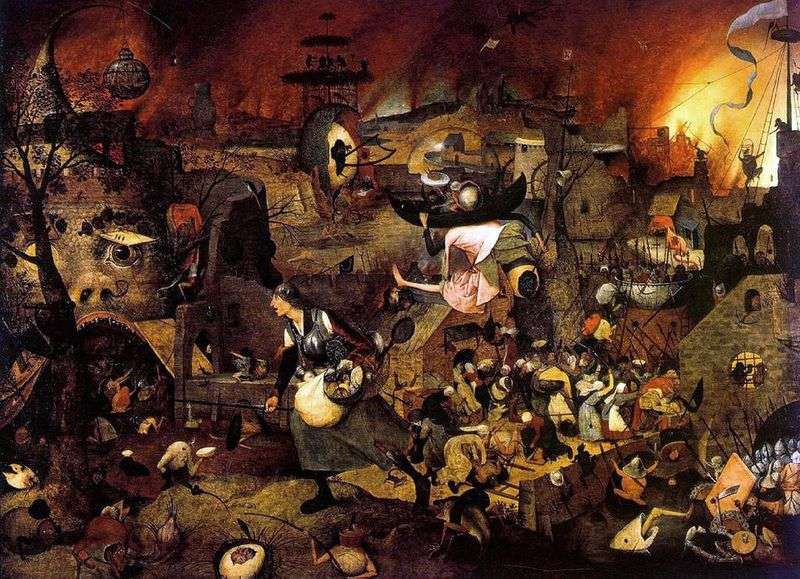 "Mad Greta" – simultaneously one of the most famous and emotional paintings of Brueghel. The style, which is designed to convey the horror of perception, lies in the inexplicability and difficulty of understanding all the events on the canvas. It can be said that, to some extent, this work surpasses phantasmagoria in the work of Hieronymus Bosch. To achieve the illusion of forcing the situation was made possible by the author using the red paints for the sky, displaying haze, placing around the background of various mystical creatures. A huge disfigured head produces all these characters. The author tried to convey an atmosphere where people die because of the crush that they themselves created, not noticing anything around.
Allegory for greed conveys a story where people tend to gain as much gold as they really are, what the giant produces. The main idea of the picture was to cause a feeling of disgust not to mystical beings, but to the madness of people. The atmosphere of chaos and hell was achieved and transmitted not by the classic depiction of devils or Satan, but by people and their vices. The key character of the canvas is a woman who is dressed in rags. In her hand is a sword, and behind the belt is a dagger.
The name of the painting has some symbolism. In those days, Greater Greta was named a large cannon, and it is worth suggesting that Bruegel used it as an allegory to the motives of the war that embraces the world. In support of all this – the dilapidated walls of the fortress, fire and troops, which are armed with a whole arsenal of weapons.
The image of a crazy Greta with bulging eyes and a mouth that has been opened with a pointlessly opened mouth is convincing enough, which indicates that the author managed to convey the insanity. She is depicted with a sword in her hands, while running, in helmet and armor. Not far from her, on the bridge, there is a conflict in the form of a fight between women. The variety of figures and objects, people and fantastic creatures, the fire and the whole atmosphere of the conflict create a sense of tragedy and drama.
The painting was made in the style of the Northern Renaissance. This easel painting with oil paints, canvas material – natural cotton. The typification of the pattern is horizontal. The main character, Mad Greta, is placed in the center, the format is full-length, profile. When writing, the artist used black, orange and dark green tones to give the plot a drama and a sense of disgust.