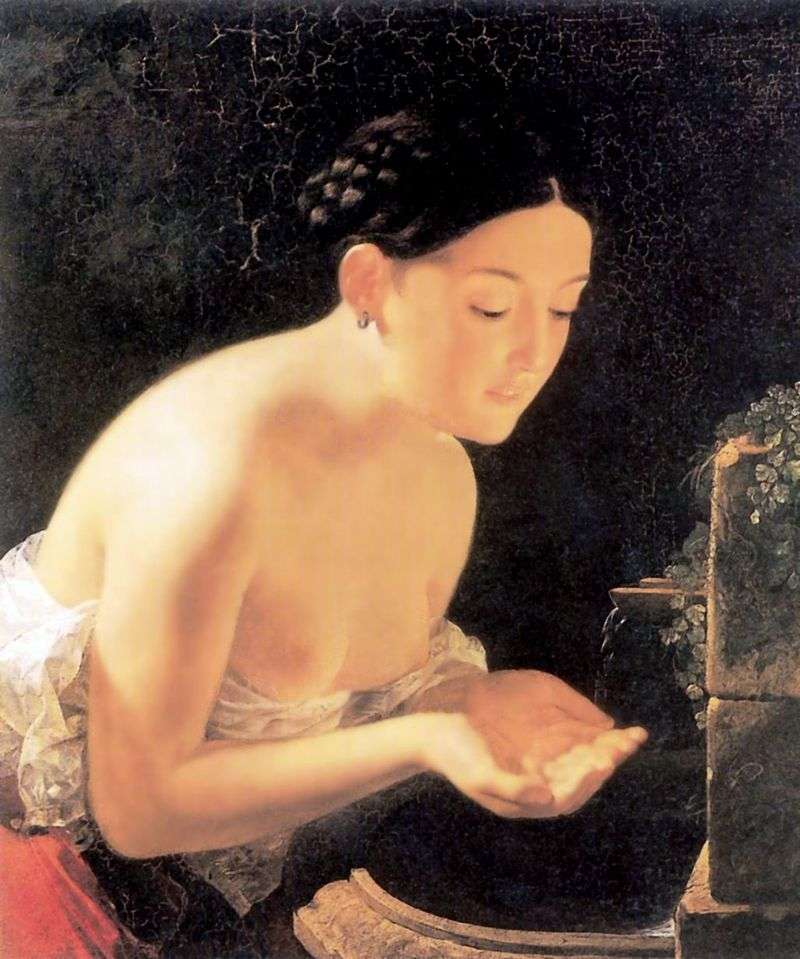 Karl Bryullov was destined to reveal his extraordinary gift in the "country of high inspiration" – Italy, where he was sent by the Society for the Encouragement of Artists in 1822: it was here that he brilliantly lived up to all the hopes that he gave in his youth.
The painter allowed himself lyrical digressions – pictures on genre scenes, which, according to the opinion of the modern critic, are undoubtedly born a happy occasion, peeped in the everyday life of this country, created under the influence of a direct impression.
These are the famous "Italian genres,"
and the first one, "The Italian Morning," brought him wide fame. The heroine of the painting, washing under the streams of a fountain, penetrated by the sun's rays, air-light from the reflexes playing on the face and chest, is perceived as the embodiment of the morning itself, the morning of the ascending new day, the morning of human life.
The canvas conquered all – the Italian, and then the Russian public, members of the Society for the Encouragement of Artists and, finally, Alexander I, whom the Society presented a picture as a gift. Later, in 1826, Nicholas I ordered KP Bryullov a picture that would have been "a couple" of the previous one. The master strove to develop a figurative juxtaposition of the being of nature and man.
In the painting "Italian noon" the mature beauty of the heroine is matched with sunlight and the juices of the land of the cluster of grapes, which she admires. Zenith of the day, the zenith of the life of nature, the time of fruit ripening is the zenith of human life. Both works, "Italian Morning" and "Italian Noon", were in the Winter Palace – in the private rooms of the Empress Alexandra Feodorovna, which did not stop the artists and the public from seeing them.
In the "Diary" of the artist A. N. Mokritsky on October 14, 1835, he tells how he and A. Venetsianov visited the empress's boudoir to get acquainted with these picturesque masterpieces.