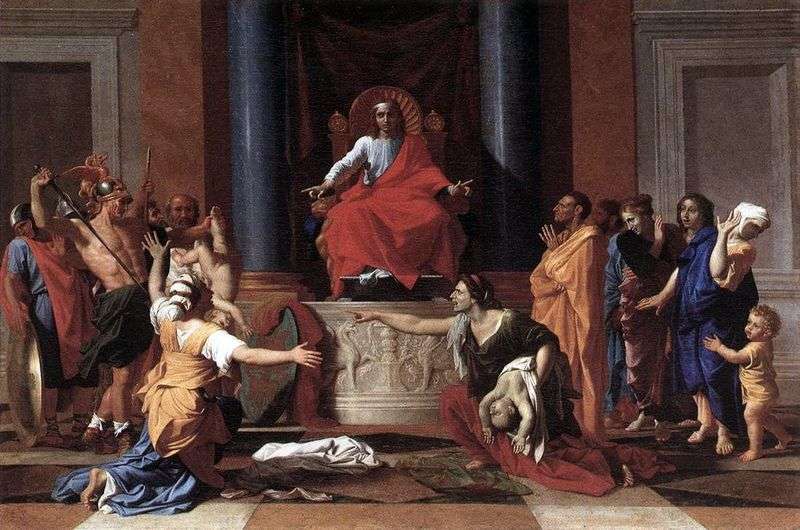 The picture is written on a plot from the Old Testament. King Solomon was distinguished by sound judgment, excellent memory, a vast stock of knowledge, and considerable patience. He listened attentively to people, helped with wise advice. He considered judging the most important duty for himself. And the fame of his just trial spread throughout Jerusalem. Two young women lived in Jerusalem, each had a baby. They lived together and slept together. Once in a dream, a woman accidentally crushed her child, and he died.
Then she took a live baby from a sleeping neighbor and laid him on her bed, and she planted
a dead one. In the morning, the second woman saw a dead baby near her and refused to take him for her, immediately seeing that he was a stranger. She accused the neighbor of fraud and forgery. However, another woman did not want to confess and insisted on her, not wanting to give a live baby. They argued for a long time and eventually went to Solomon to judge them. Solomon listened to everyone. After that, he ordered a servant to bring a sword and said: "My decision is this. You are two, a living child is one.
Cut it in half, and let each be comforted by its half. "One said:" Let there be neither me nor you, you chop. " a child and who is a deceiver. He said to his guards: "Give me the child of that mother. who did not want him to die. She is the real mother of the child ",