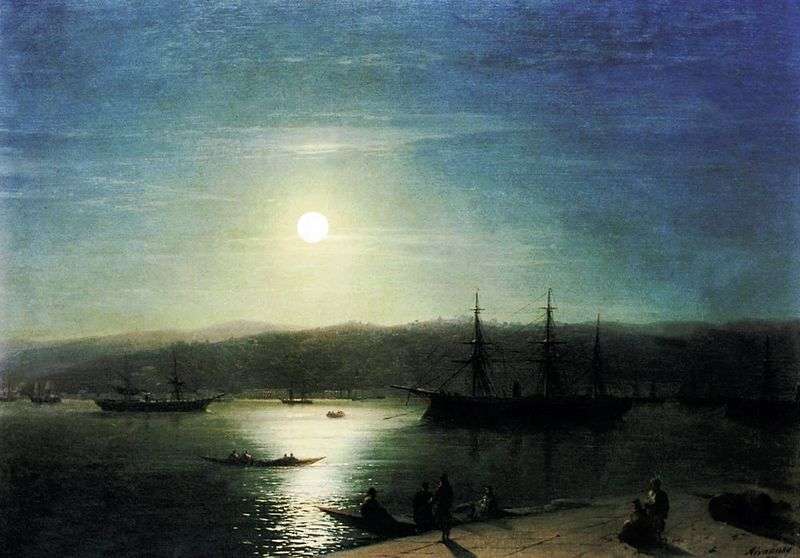 The painting "The Bosphorus in the Moonlit Night" was written by Aivazovsky in 1874.
The artist was very sensitive to the marine theme, he loved seascapes, moorings and all manifestations of the sea element. For many years Aivazovsky worked in different countries and studied their nature and the art of painting.
The artist had an excellent visual memory, and therefore the details in his paintings are written incredibly accurately. His paintings are admired by spectators for several centuries. Some pictures excite, and others calm the soul. Previously, no one could portray the elements of the sea, air and light as realistic as Ivan Aivazovsky portrayed in his works.
The painting is painted on canvas with oil paints. It represents a marinistic cycle of paintings by Aivazovsky. Before the spectator the Bosporus Strait appears on the full moon, the water surface is calm and serene. Soothing calm… The picture is written so realistically that you want to look at it, as you walk along the pier and admire the moonlit path. The ships on the dock had already lowered the sails to rest and gain strength for new long voyages.
Between the sleeping brigantines serenely floating small fishing boats. In the background there is a ship sailing to the dock with sails still raised. On the full moon, the mountains that surround the strait can be clearly seen. The sky is clear and nothing prevents the moon from reigning alone in the sky. Tired fishermen talk on the beach.
The ability of the artist to convey the light of the moon, the night sky, glare on the water surface is truly amazing. These images can be found in other works of Aivazovsky. The force of the sea, attractive to the artist, constantly made me find something new in it.
The seascape of Aivazovsky conveys the breath and movement of this natural force. All his life the artist was faithful to his love of the sea. The picture "The Bosphorus in the Moonlit Night" can be seen at the State Tretyakov Gallery in Moscow.