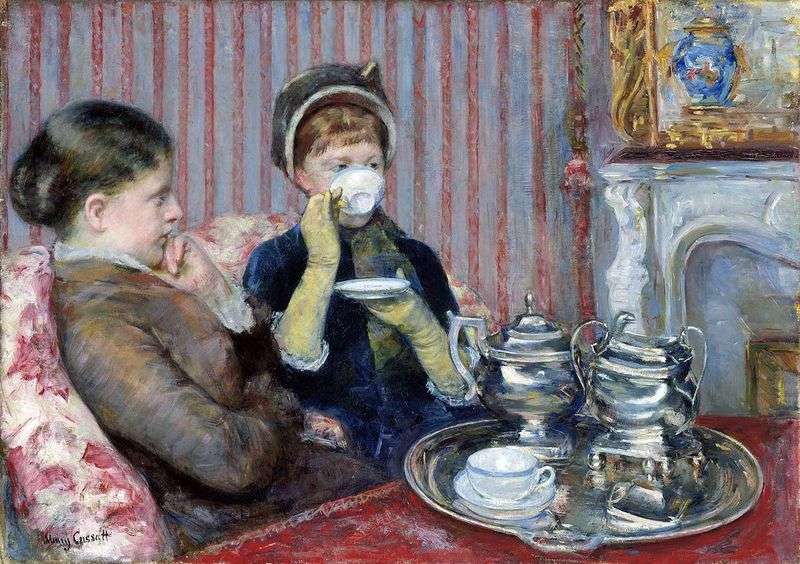 On the canvases of Mary Cassatt, the images of women were conveyed with sufficient restraint: the artist managed to capture only that part of their life that was determined by the foundations of bourgeois society. As an impressionist, she would have been interested in looking for more interesting subjects, for example in the night institutions of the French capital, but, being a decent lady, she was forced to content herself with her friends' living rooms and theatrical lodges.
The painting "Tea Party" shows an absolutely ordinary scene – a traditional home reception. The viewer is in a cozy living room with nothing remarkable. The elegance of the scene is emphasized only by the contrast of the silver service, bright and festively sparkling against the background of opaque porcelain. A young pretty woman went to tea. Most likely, she is in a hurry somewhere, because she sits at the table in a hat. Nevertheless, it is her face that becomes the center of the canvas. It is half closed by a cup, only the eyes are visible to the viewer.
However, even on them you can make an impression of the nature of the character. The woman's gaze, directed to the side, speaks of the biting nature and her love for secular gossip as one of the most enjoyable pastimes. The little finger set aside is of a petty-bourgeois origin.
The woman on the left, leaning back on the sofa, is Mary Lydia's older sister, struck by a deadly disease. On her face there is a slight sadness and a degree of hopelessness.