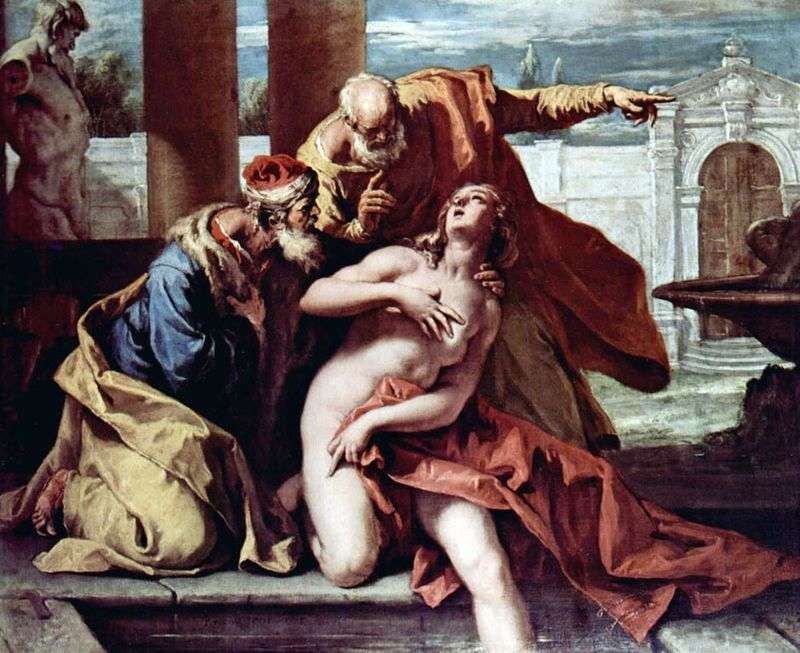 Painting by Italian artist Sebastian Ricci "Susana and the Elders". Painting size 83 x 102 cm, oil on canvas. This work was created based on the biblical story about the slander of lustful old men at the beautiful Susanna, who refused to close them.
After leaving Venice for a year, in the years 1706-1707 Ricci performed two major projects in Florence. Some historians of painting of the Italian Rococo and researchers of the artist's works, these murals and paintings are considered the pinnacle of the creative career of Sebastiano Ricci.
From the summer of 1706, Ricci began creating a large series of frescoes on mythological scenes and allegories in the Palazzo Maruchelli-Fenzi, then in 1707 on behalf of the Grand Duke Ferdinando de Medici, together with the painter Giuseppe Tonelli, worked on decorating the halls of the Palazzo Pitti.
Frescoes in the Florentine Palazzo Pitti compared with previous works Ricci are more vivid color and airy cheerful luminosity. These murals deservedly brought European fame to the artist Sebastiano Ricci.