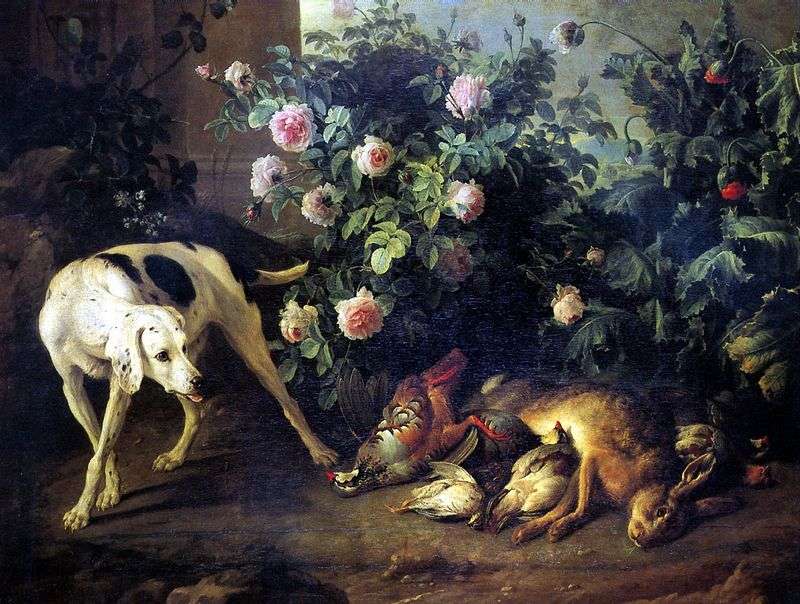 François Deporte belongs to the number of French artists, whose work is associated with the era of Louis XIV. He came from a peasant family. The extraordinary abilities inherent in the young man showed themselves early and were noticed. At the age of twelve, Deport was taken as a pupil to a Flemish painter who lived in Paris.
His career as an artist, he began as a portraitist, in 1695-1696 he worked at the Polish Court, but Louis XIV returned him to Paris and appointed the artist a royal hunt. In 1699 Deport was accepted into the Royal Academy. Since that time, the artist's work is entirely devoted to still-lives with bat game, hunting scenes.
The painting "Still Life with a Dog and a Battle Game in a Rose Bush" is a typical work for Deport. Truthfulness, thoroughness of the interpretation of objects, details, animals in the still life – this is what gave out Flemish training, and the passion for luxurious elegance in the production of painting, details – an integral feature of the French artist.
Other famous works: "The Dog and the Game". The Hermitage, St. Petersburg; "Self-portrait in a hunting suit." OK. 1699. Louvre, Paris.