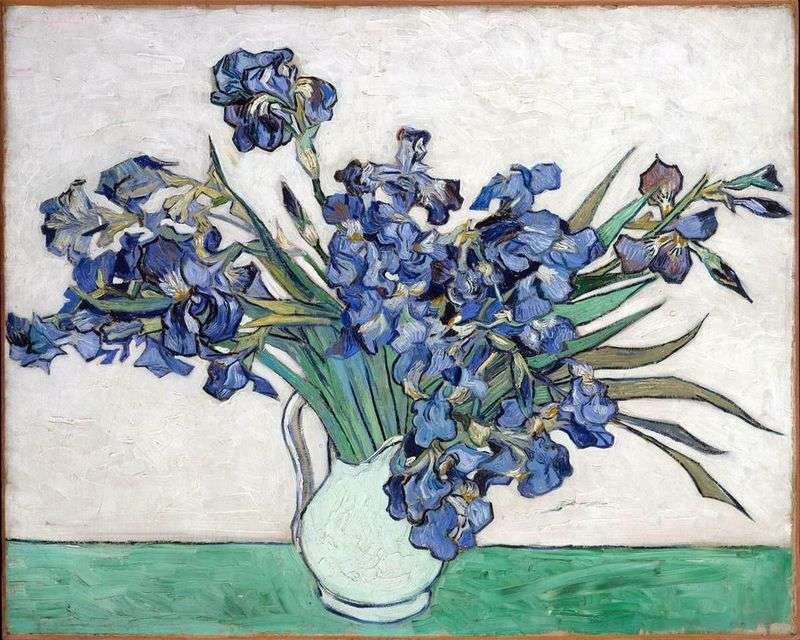 This is one of the still lifes written by Van Gogh while staying in the hospital. Not being able to go out, the artist, in addition to copies of paintings by old masters and the interiors of the hospital, wrote several bouquets of flowers, among which were roses and irises.
This picture is distinguished by the thoughtfulness of the composition, the clarity of the outlines, the coloristic harmony. Apparently, the desire of the author to "pull himself together", to organize his thoughts and emotions through self-control.
Marking the table surface with a narrow strip of green, the artist places
a vase with a huge bouquet right in the middle of the canvas. Blue spots of irises are harmoniously distributed in the upper part of the canvas in different size groups. In the picture there are no empty places, the whole space is harmoniously filled with the elements of the composition.
Coloring the picture is based on a combination of light pastel shades of cold scales. On a gentle-lilac background, a round blue-white vase stands out. Slightly touched by withering, the flowers of the irises are written with a soft combination of ultramarine, white and pink flowers, and the sharp leaves have something in common with the surface of the table.
Van Gogh does not model forms of chiaroscuro, choosing a continuous fill of large planes and outlining objects with a clear, thin contour. This technique is borrowed by the artist from the masters of Japanese engraving. Their creativity attracted him with precision, speed, ease of execution and clarity of expressed feelings.