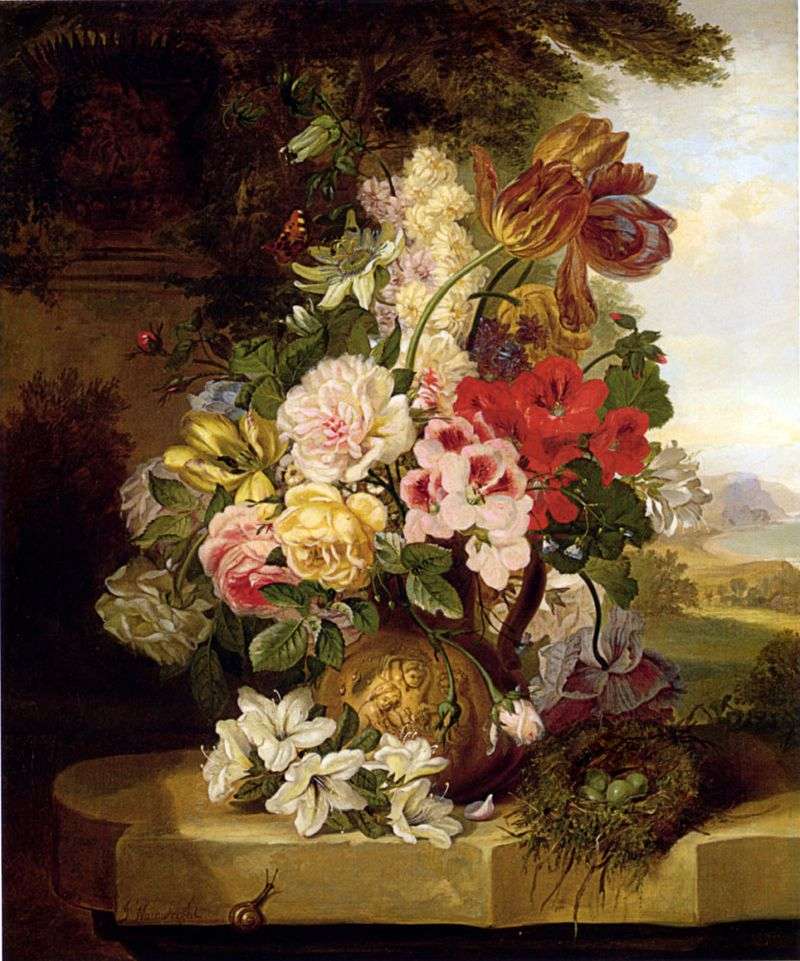 The floral compositions of the rococo bouquets cozily coexisted in the world of painting, living to the beginning of the XXI century almost in its original form. These are huge clay vases with a bouquet of fabulously beautiful flowers, sometimes fictional and stylized to please the author's imagination. There are few remaining masters who are looking for inspiration in this genre of writing, but the authors, who were fortunate enough to come into contact with pompous bouquets during the reign of Louis XV, left a bright spot in the unpopular genre of painting. One of the painters – the florists was John
Wenwright.
A British by birth, he plunged into the truly French luxury of floral still lifes and had an excellent collection of his own flowers. "Still life of tulips, roses, other flowers and butterflies" – work in the style of the Baroque era. It is ideal for proportions and content. Despite the imitation of the masters of that era, flowers with rokaylyami in tandem with a completely mundane bird's nest, this work could serve as a true painting of the artist, for example, the 17th century.
Bouquet Wenraith is very rich. He was not stingy to put together flowers of completely different periods – and spring, and autumn, and summer. Ripe spring tulips almost crumbled, the white peony is still fragrant, the roses are so yellow that they remind us of the color of a ripe lemon. Here, white and red lilies and carefully collected orchid-colored plombiras are adroitly woven.
In contact with the technique of writing and the transfer of chiaroscuro items, I want to note a letter from the author's memory. In work, the light and shadow of flowers do not get along, being presented in a somewhat artificial form, but the nest is the very thing. It is alive and it seems, still warm from the presence of the mother – a bird. Dry twigs are drawn scrupulously to the pain in the eyes of tension, trying to see the abundance of twigs and knots. A good vase has a complex stucco mold in the form of cherubs and is not inferior in originality to a floral collection.
Still life gives a warm scent of already fading flowers and fragile petals. Still collected in a bud of a rose just about will burst, but as a whole days of plants are numbered. They stand too long. However, the geranium, collected in a brush of unblown inflorescences, perhaps will live a little more, adding a scarlet stain of dried up beauty. The heat of the palette twists the autumn mood, late September, still warm and dry.