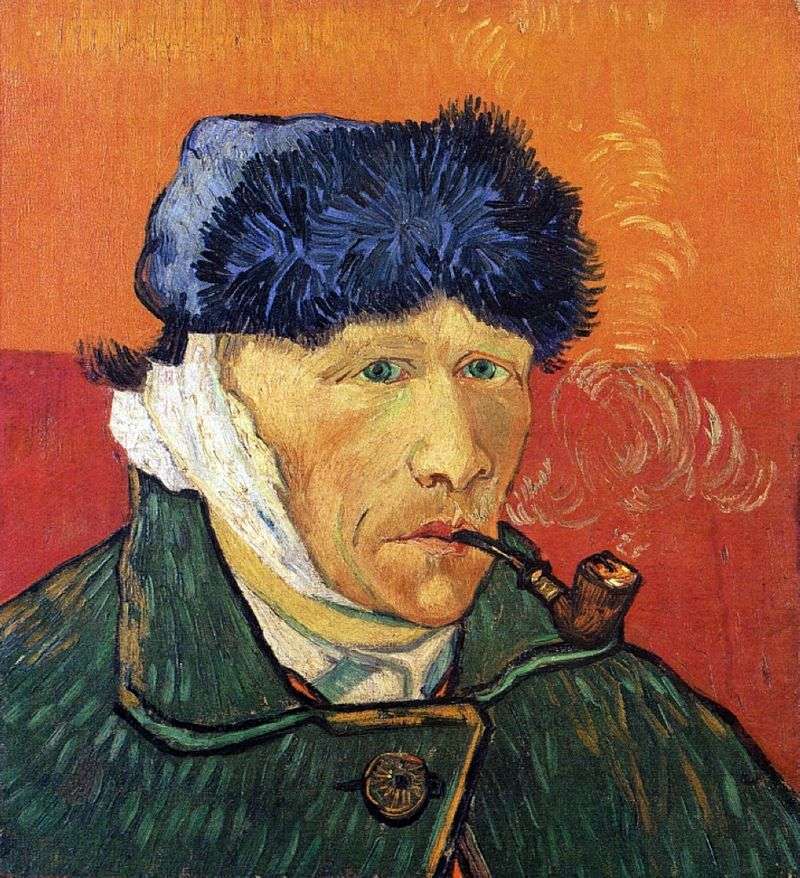 "Self-Portrait with cut ear and a tube" – a picture of the Dutch and the French artist Vincent van Gogh. Written during his stay in Arles, van Gogh in January 1889.
A heightened sense of reality and spiritual imbalance leads Van Gogh to a psychological disease. Gauguin arrives to stay in Arles, but creative differences caused a fight. Van Gogh throws a glass artist in the head, and then, after the announcement of the intention to leave Gauguin, rushes at him with a razor. In a fit of madness in the evening of the same day or the painter cuts for themselves earlobe.
Van Gogh's face occupies a huge part of the picture. The head is turned three-quarters to the right side. He is dressed in a warm jacket, worn hat. On the head bandage. Van Gogh smokes a pipe. Black pipe contrasts with the pure white bandage.
The picture creates a memory of humility and calm. The painting of the artist distorted facial features, eyes lost, directed into the distance. Van Gogh in the painting was only 35 years old, but he looks at it fifty years. Background picture – two-color wall, red-orange Kohler.
If we look at the picture, you can see that the background is divided into two equal zones: the lower part – a reddish, upper mostly orange, with small patches of yellow. Cap blue in front part behind purple. The jacket, which he wore – green. Smoke, his shirt and his white bandage, while the tube, his eyes and hair is very dark, almost black. Van Gogh is located next to the close circle of chromatic colors.