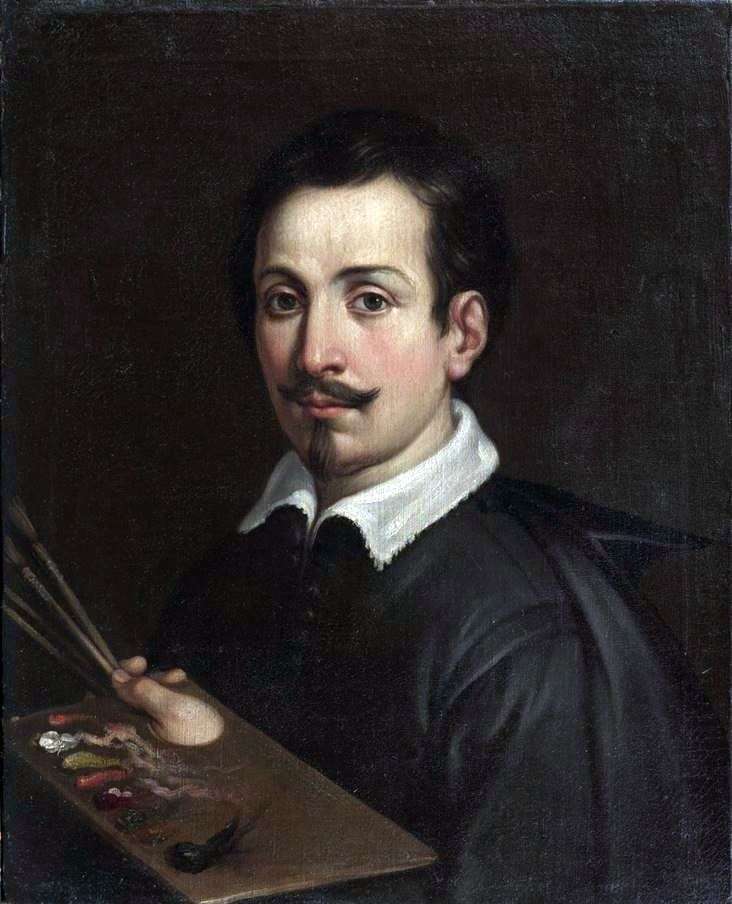 Self-portrait of the Italian painter, master of Bologna academicism Guido Reni. Portrait size 54 x 42 cm, oil on canvas. Actually, this portrait of the artist has its own name "Self-portrait with painting in Rome" and even its fascinating history. The text that accompanied the picture and, until recently, was attached to the wrong side of the canvas lining, describes the portrait of Guido Renee, and mentions that the picture was written by the artist at the time when Renee began to wear a beard and mustache.
It is likely that this is the self-portrait of the artist, which Cardinal Carlo De Medici
later tried to acquire in Bologna in 1634. But for many centuries later the picture was forgotten and kept in closets. After finding the picture, which turned out to be in a rather deplorable state with an unclear, muddy and uneven surface, it was established that this is a genuine self-portrait of Guido Reni.
It was found due to the presence of text on a fabric attached directly to the back side of the canvas, which contained the writing in capital letters GVIDVS FIGLIVS DANIELVS RENI ET IVNIFERA DE POZZI PINXIT GVIDVS FIGLIVS DANIELVS RENI ET DE IVNIFERA Pozzi PINXIT. The text could be read and completely disassembled only using infrared shooting. It is also known a letter that mentions that this self-portrait was sent as a gift to the mother Guido Reni.
Reni Guido was born on November 4, 1575 in the Calvenzano region of Emilia-Romagna. He studied in Bologna with Carracci; in 1605-1622 he worked in Rome, where he studied ancient monuments and works of Raphael, was influenced by Caravaggio, from 1622 he lived in Bologna. The master of the Bologna school, Reni, created rigorous, harmoniously clear compositions, marked by warm golden or, on the contrary, lightened silver color.
In the later works of Reni, the features of sentimentality and cold idealization are strengthened, thanks to which the name Reni in subsequent epochs was often used as a synonym for academism in the visual arts. The painter Guido Reni died on August 18, 1642 in Bologna.