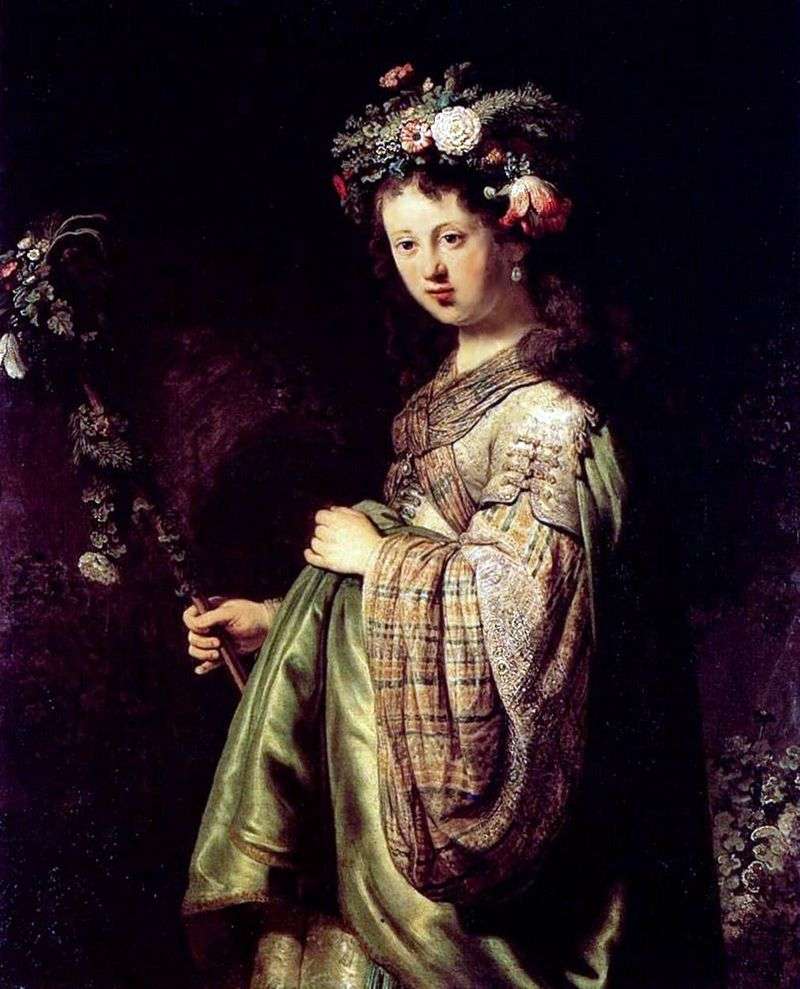 In 1633, Saskia van Euenbürch became Rembrandt van Rijn's bride. The charming portrait of a young Saskia in Flora's outfit is a mute but eloquent witness to this "pore of spring and love" by a brilliant painter.
The pensive, but undoubtedly happy face of the girl is fully consistent with the feelings of the bride. She is now not a frisky child, carelessly looking at God's world. Before her a serious task: she chose a new path and much, much she has to change her mind and feel about her before she enters adulthood. The headdresses and the wand entwined with flowers certainly
indicate Flora, the ancient Roman goddess of spring. The costume of the goddess is written with amazing skill, but the real greatness of Rembrandt's talent is manifested in the expression of tenderness that the artist gave to her face.
Beloved wife brought in the lonely dwelling of the modest artist the light of happiness and heartfelt satisfaction. Rembrandt liked to dress Saskia in velvet, silk and brocade, according to the custom of the time, showered with diamonds and pearls, lovingly watching how her charming, young face won from a brilliant dress, as its fresh color effectively stands out against the dark background of cherry velvet, which matte whiten pearl thread, curling among the golden hair.
Saskia was not only a genius-inspirer of her husband, his consolation in the midst of failures and worries, but also turned out to be a great model. Rembrandt portrayed her many times: blooming and cheerful, elegantly dressed – as in the Dresden portrait, prim and taut – as in the official portrait from the Kassel Museum, or in Flora's attire – especially the plot at the time, reincarnated by Rembrandt.