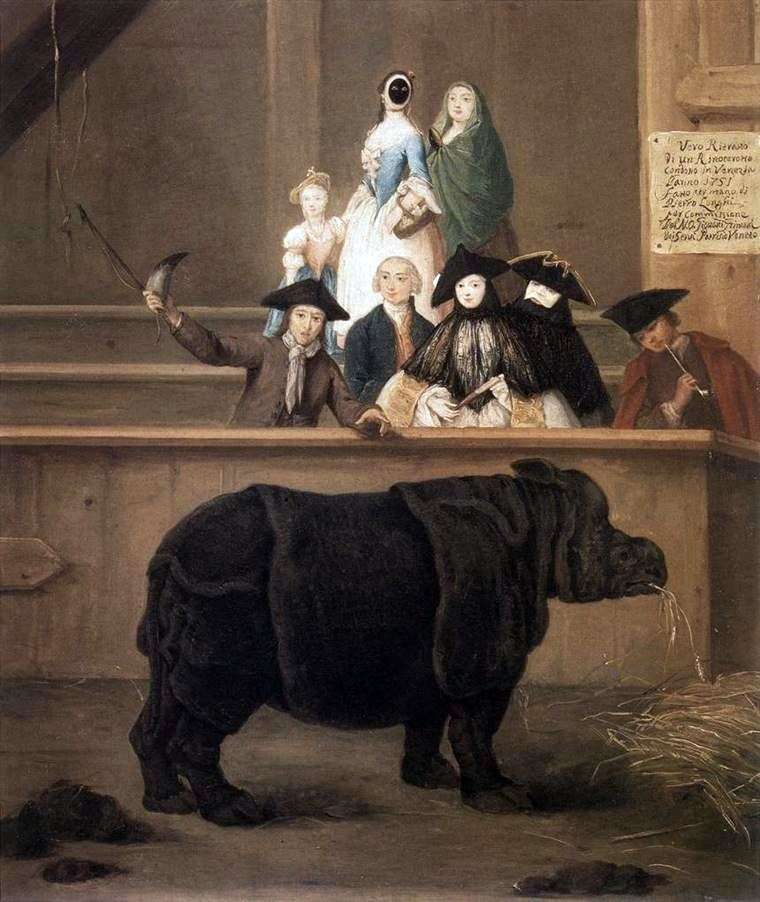 Pietro Longhi is among the Venetian painters of the Enlightenment. The artist was born in Venice and received his first lessons in art from his father A. Falk, the famous master of silver art. Inspired by painting, he took another surname.
As an artist, Longhi began with altar images, tried himself in monumental painting, but failed. From the 1730s, the master turned to the topic of popular life, and from the mid-1740s he began to paint on the themes of modern life of the Venetian bourgeois, which in his works acquired a theatrical character, consonant with the comedy of the manners of C. Goldoni, but the artist's light ironic view and moralizing.
In the 1750s, Longhi expanded the range of themes used. His attention was attracted by scenes from the life of the poor neighborhoods of the city. Among such works is the painting "Rhino", executed with a great deal of humor, depicting the scene of a public display of an exotic animal. The works of Longhi were popular with many art lovers, but did not arouse sympathy among professionals, who considered them to be "low genres."
However, they still brought fame to the artist, capturing with a kind smile and the irony of an eyewitness the life of Venice in the century of Enlightenment. Other famous works: "Concert". 1741. Academy Gallery, Venice; "Dance Lesson". 1757. Academy Gallery, Venice; "Charlatan". 1757. Palazzo Rezzonico, Venice.