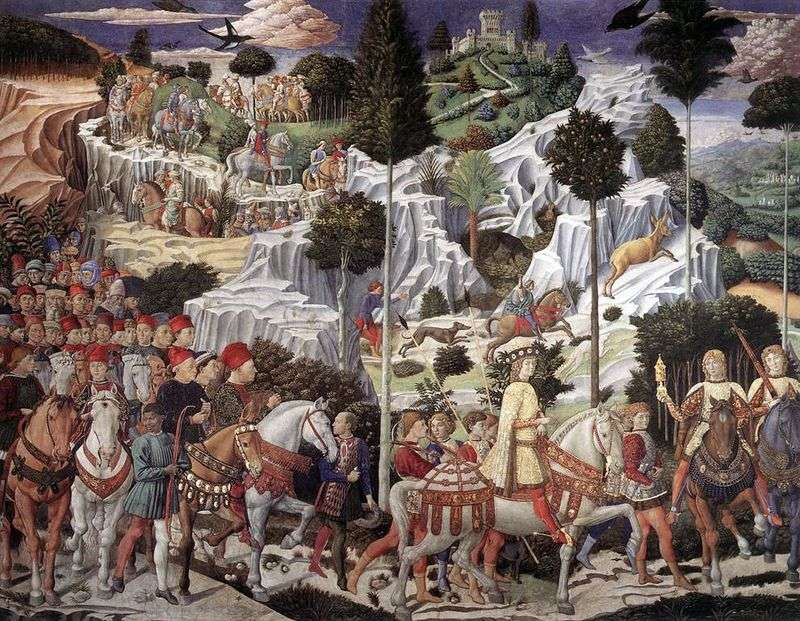 Benozzo Gozzoli is one of the most outstanding artists of the Florentine school of the 15th century. He belongs to the masters of the second generation of the Early Renaissance. His teacher was Fra Angelico. As an assistant teacher, Gozzoli worked at creating paintings in the monastery of San Marco; chapels of St. Nicholas and others.
The independent creative life of the artist began in the 1450s. He worked in Montefalco, Florence, Pisa. Painting "The procession of the Magi" in the court chapel was the best work of Gozzoli. It occupies three walls and represents a single composition, which was
thematically associated with the painting of the altar wall "Christmas". Painting Gozzoli organically surrounds the walls of the chapel, as if covering them with an amazing "carpet." In the paintings, the richness of colors and refined decorativeness, the refinement of the landscape, the diversity of the inhabitants of forests and mountains are naturally combined.
Among the numerous retinue – the contemporaries of Gozzoli, and led by the Medici family. The work is distinguished by a striking harmony in the choice of pictorial means and surprising internal tension, emotionality. Other famous works: cycles of murals "The Story of St. Augustine" and on the themes of the Old Testament.