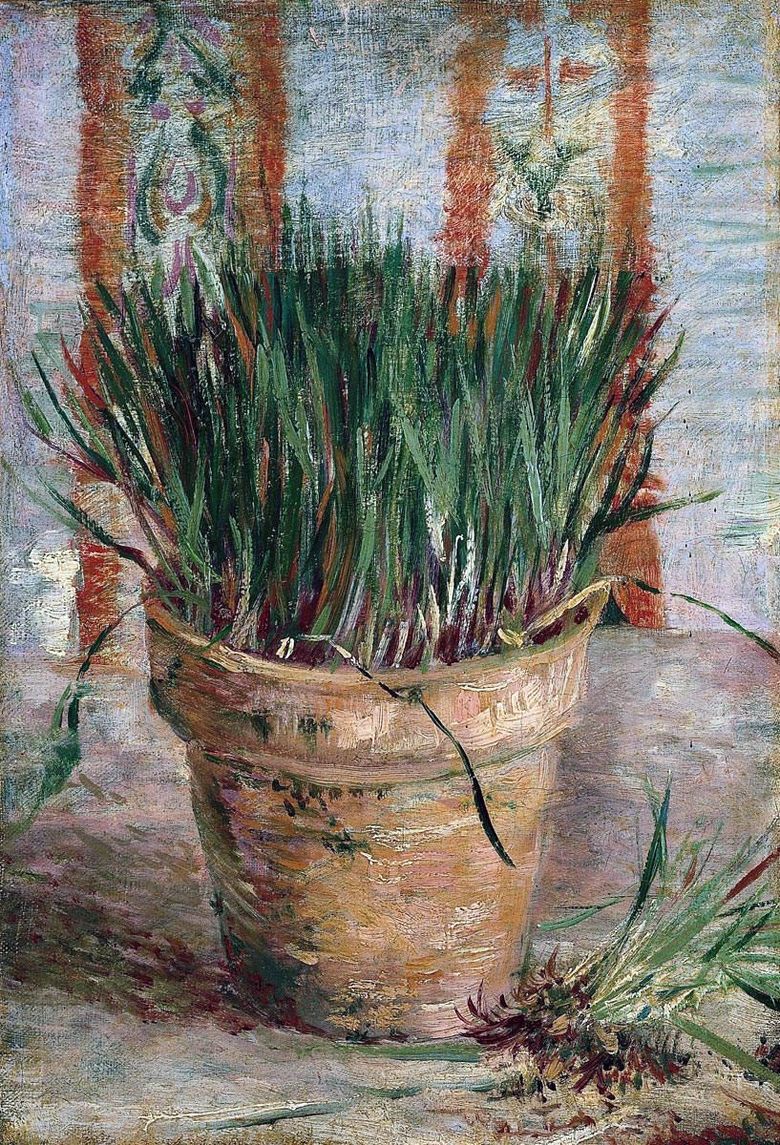 À Paris, Van Gogh s'est concentré sur la création d'une palette plus légère et plus propre. Theo Van Gogh a écrit à sa mère dans des lettres que Vincent peint constamment des fleurs. Les nuances lumineuses et saturées des plantes lui ont permis de rendre la structure des couleurs des tableaux beaucoup plus propre.
Mais, outre les fleurs, d'autres articles ménagers, parfois les plus ordinaires, ont servi de thème aux natures mortes. Ces croquis étaient de la nature d'œuvres éducatives, dans lesquelles l'accent est mis sur la façon dont l'image est exécutée. Cette œuvre, écrite
en 1887, indique que l'artiste a réussi à atteindre un objectif significatif.
Un arc dans un pot est écrit très soigneusement et avec précision, à l'aide d'une brosse fine. La couleur verte saturée prend une teinte froide. Les verts juteux contrastent avec la couleur rose-orange du motif de papier peint. Ces papiers peints peuvent être vus dans plusieurs peintures de Van Gogh, par exemple, dans Still Life with a Decanter and Lemons on a Plate.
Par des touches de peinture bleue, Van Gogh a montré le reflet de la lumière du jour sur le mur. Les mêmes nuances de bleu jouent sur la surface de la table, se combinant avec les reflets rouges, orange et jaunes des objets environnants. Un tel jeu de traits contrastés rend la couleur indéfinie du plan de travail inhabituellement colorée et intéressante.