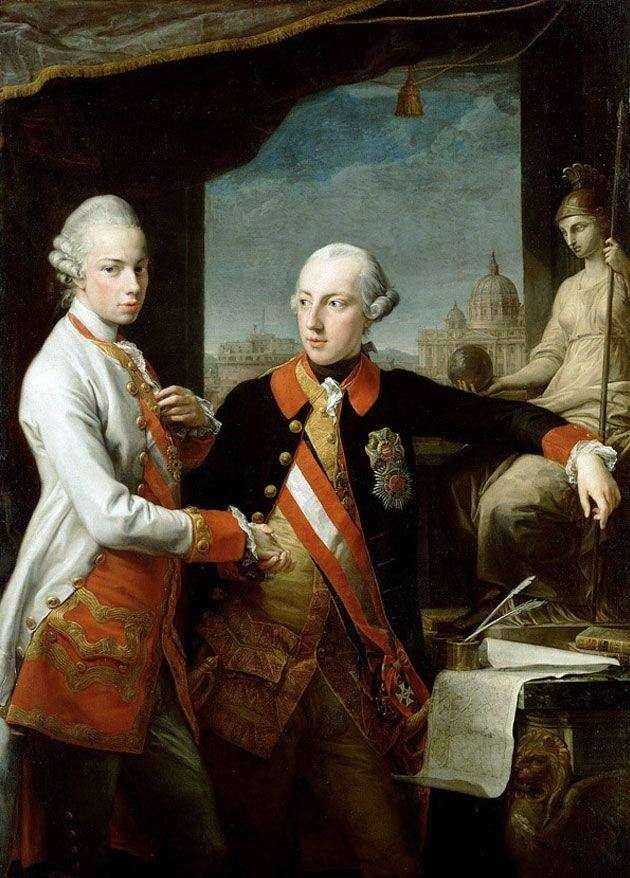 Painting of the Italian painter Pompeo Batoni "Portrait of Emperor Joseph II and his brother Leopold of Tuscan". The size of the portrait is 173 x 122 cm, canvas, oil. In 1769, for the double portrait of Emperor Joseph II and Leopold Tuscan, the Italian artist Pompeo Batoni was elevated to Austria as a nobleman. Joseph II of Austria – the King of Germany since March 27, 1764, the eldest son of Maria Theresa. He was elected emperor of the Holy Roman Empire on August 18, 1765, but he ruled independently only after the death of his mother. November 29, 1780 Joseph II inherited after the death of Maria
Theresa possession of the Habsburgs – the Archduke of Austria, the kingdoms of Bohemia and Hungary.
An outstanding statesman, reformer, a bright representative of the era of enlightened absolutism. The Grand Duke of Tuscany Leopold, the younger brother of Joseph II. Leopold II – elected emperor of the Holy Roman Empire of the German nation on September 30, 1790 after the death of Joseph II, the third son of Franz I and Maria Theresa.