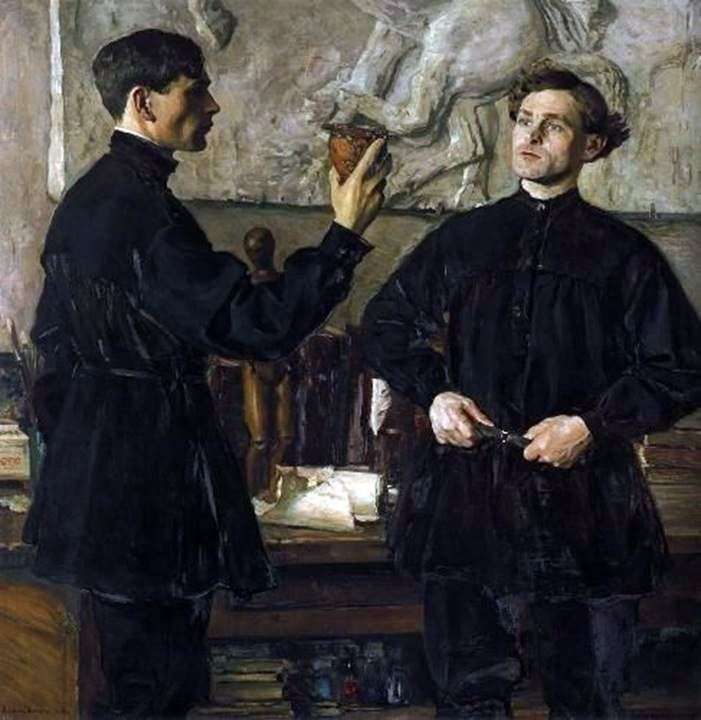 The portrait aroused admiration for the immense skill with which it was written, with extremely precise and at the same time loving characteristic of the depicted persons, severity and harmony of composition and color solution. The spectators stared in bewilderment at the label – "M. V. Nesterov. Portrait of the Koryn brothers. 1930".
Many of them could not imagine that the creator of the portrait was the "same" Nesterov, a famous Russian artist, who on the verge of a century had glorified his name with paintings on religious themes and paintings of cathedrals. True, some of the more sophisticated visitors to the exhibition recalled such an especial and poetic portrait of Nesterov's daughter, "Amazon," in the Russian Museum, about the excellent portrait of the artist's wife in the Tretyakov Gallery. And it became clear that the path of Nesterov – an artist, as many have thought, of an era that has already passed, is not only not finished, but the master is in a period of new creative heyday and, most importantly, occupied a significant place in Soviet art.
The characters in the portrait of Nesterov, the artists of the Corina brothers, were relatively little known at that time. With Nesterov, however, young painters had long-standing cordial, friendly relations. Two decades separated the time of writing a portrait from the day when a young Paleshanin Pavel Dmitrievich Korin came to Nesterov – now an academician, People's Artist of the USSR, then a student of the "icon-painting chamber", resembling a young man from the frescoes Ghirlandaio and Pinturicchio. He became an active assistant and devoted student of a great artist. A few years later, his younger brother Alexander Dmitrievich, the largest Soviet restorer in the future, became close to Nesterov.
By the time the portrait was written, Corina was in the prime of her life. Nesterov loved and appreciated the young artists for the clarity and firmness of their views, dedication to their intended life goal, the vigilance of creative pursuits. "As long as they exist, I don't get tired of admiring them," he wrote to one of his friends, "to admire their moral, spiritual qualities… Both brothers give me a lot of joy for a long time." In 1930, in an effort to capture the images of people who are internally close to him, Nesterov creates an outstanding work that sums up his many years of searching and is at the same time the starting point for his further work in the portrait area.