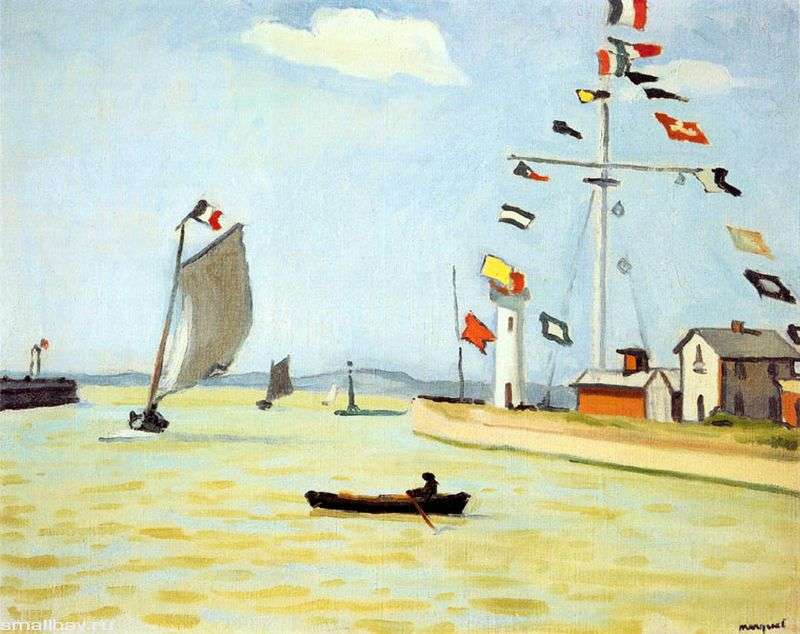 The works of Albert Marche, in contrast to the paintings of other Fauvists, seem surprisingly simple, restrained in color, almost unaffected by deformities of nature. However, do not pass Marche through Fauvist passions, it is unlikely that he would have achieved such expressive brevity of color and compositional solutions.
In his landscapes, the artist managed to unravel the harmony of the boundless world, express the love of life. Like the impressionists, Mark loved to write at different times of the year. Pure colors, graphical contours give his paintings an increased dynamism of perception. Despite the fact that the angles in his works often seem to be chosen randomly, Mark never specifies that the picture is written from the windows of the studio – there are no details saying this: no window frame, no balcony.
Cheerfulness of the perception of nature is inherent in the canvas "Port in Honfleur". Unconstrained, free, almost sketchy design, simplifying and generalizing forms, a bright blue and silvery-pearl color scale do not allow the gaze to detach from the contemplation of the canvas. With the help of several bright strokes – fluttering colorful flags, blown sails on a boat – the artist manages to transmit a sunny windy day, the poetry of the provincial life of a seaside town.