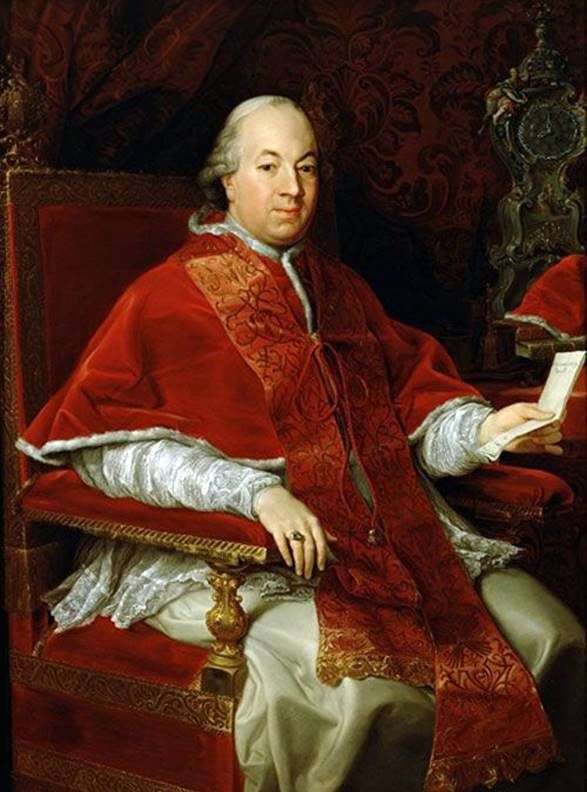 Painting of the Italian painter Pompeo Batoni "Pope Pius VI". The size of the portrait is 138 x 98 cm, canvas, oil. The 250th Pope of Rome Pius VI was on the papal throne from February 15, 1775 to August 29, 1799. Pius VI was born on December 27, 1717 in Cesena. He studied law. At the age of 36, he received the priestly priesthood.
He became secretary of Benedict XIV. Clement XIII appointed him papal treasurer. In 1773 the future Pope Pius VI received a cardinal cap. After the accession to the throne of St. Peter Pius VI, contrary to the prohibition of Innocent XII, he elevated his nepot – Romualdo Onesti-Braschi to the cardinal dignity and endowed it with rich benefices. Pope's brother was proclaimed Prince of Nemi.
For his nepotov, the pope built in the center of Rome, in Piazza Navona, the magnificent Braski Palace. The religious activity of Pope Pius VI was reduced mainly to the organization of regular celebrations of the Catholic jubilee dates. The dissolution of the Jesuit order had a disastrous effect on the work of the papal administration, especially in missionary territories. In 1796 the victorious campaign of Napoleon to Italy dispelled the Vatican's hopes for the help of the Bourbons and Austria. The Tolentino Treaty subordinated the papal state to the authority of the French Directory. Two years later, on the orders of Napoleon, General Berthier took his father to Siena, and then to the fortress of Valence in Ron, where Pope Pius VI died.