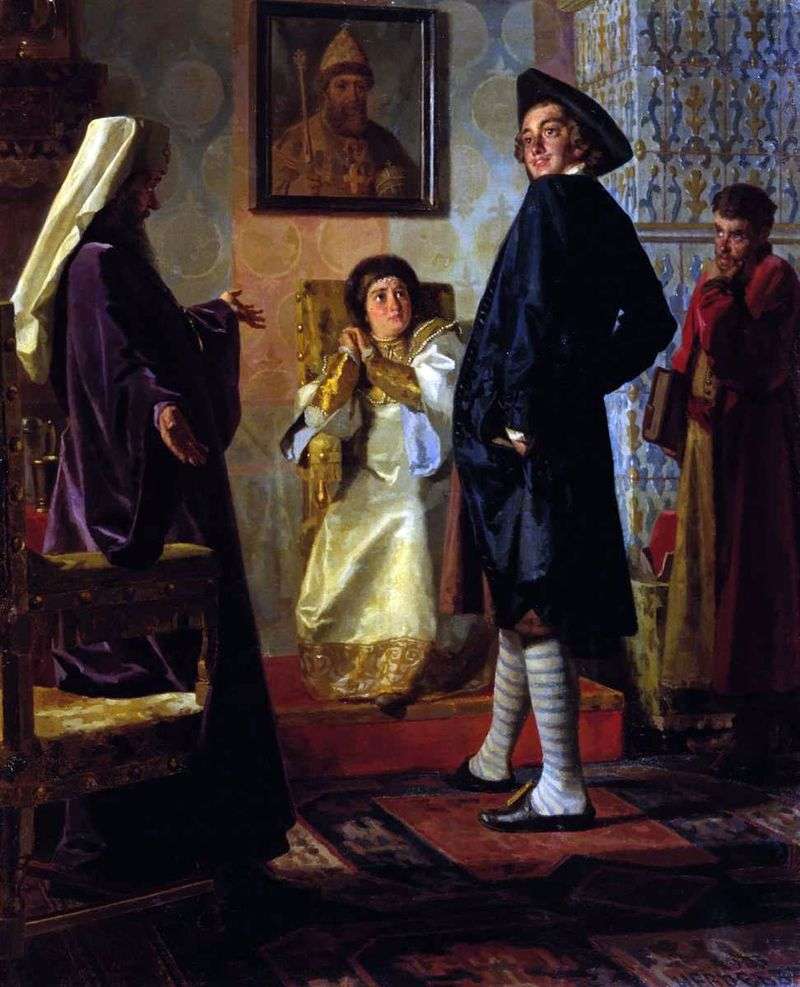 Peter I in a foreign dress in front of his mother, his queen Natalia, Patriarch Andrian and teacher Zotov [1903] Oil on canvas. 111×89.8 cm. Stavropol Regional Museum of Fine Arts, Stavropol The picture dedicated to Peter I was painted by a 73-year-old master shortly before his tragic death, but full of internal energy.
True to the principles of critical realism, the author created a dramatic collision built on the psychological interaction of individuals. Peter shows off his foreign attire. His act causes a different reaction. The whole scene is carefully thought out by the author. He aspires to the
social and household specificity, recalling the cautious attitude of pre-Peter Russia to the new trends, to everything Western. Every detail is eloquent: facial expressions, views, poses, gestures, costumes, interior.
Even such a detail as a portrait of Alexei Mikhailovich with the attributes of royal power, characterizes the age-old foundations. They are opposed by the figure of Peter, who defiantly defies patriarchal antiquity. Nevreva young king, 18-20 years. He is a frequent visitor to the German Quarter, was not abroad, and still far from the royal decrees, which replaced the boyar dresses with clothes of Western style. But, demonstrating the European costume, Peter already declares his reform work.
The historical canvas of Nevrevo does not rise to a large artistic generalization, but it attracts with an expressive interpretation of images, with the veracity of reproduction of the depicted era.