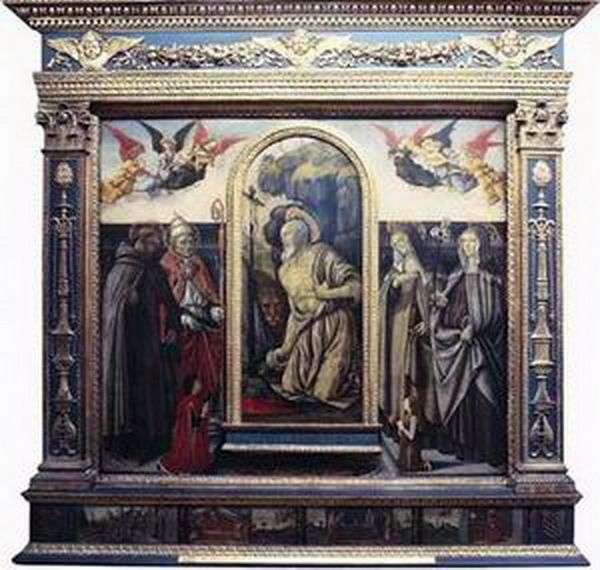 St. Jerome is depicted here in the center of penitents in the desert before the crucifix, with a stone in his hand. Around him is a lion. In the foreground are rosary and scorpion. On the left side of the altar are depicted St.. Eusebius of Cremona, who was credited with one of the letters that gave the material for the picturesque plots, Pope Damas; right St. Paul and St. Eustochia. The little figures kneeling in the foreground probably the Girolamo di Pietro di Cardinale Rucellai, who is supposed to have died in 1497 and was buried in a church commissioned by the Medici in Venice, built by the famous architect
Michelozzo, and where this altar comes from. If this statement is true, then the small figure on the right is his son.
The border of this altar at the edges contains images of the emblem of Rucellai, and in the middle there are three scenes from the life of St. Hieronymus: extracting a splinter from the paw of a lion; dream of St. Hieronymus; death of St. Hieronymus. There is also one posthumous episode here – the appearance of the soul of St. Hieronymus of St. Augustine. In 386 the St. Jerome settled in Bethlehem. He founded a monastery here, in which he spent the last thirty-three years of his life. On the instructions of Pope Damas, St. Jerome translated the Bible into Latin. This translation went down in history as the Vulgate and was recognized by the Council of Trent as canonical. St. Jerome is considered the patron of intellectuals, students, in particular, theological students.