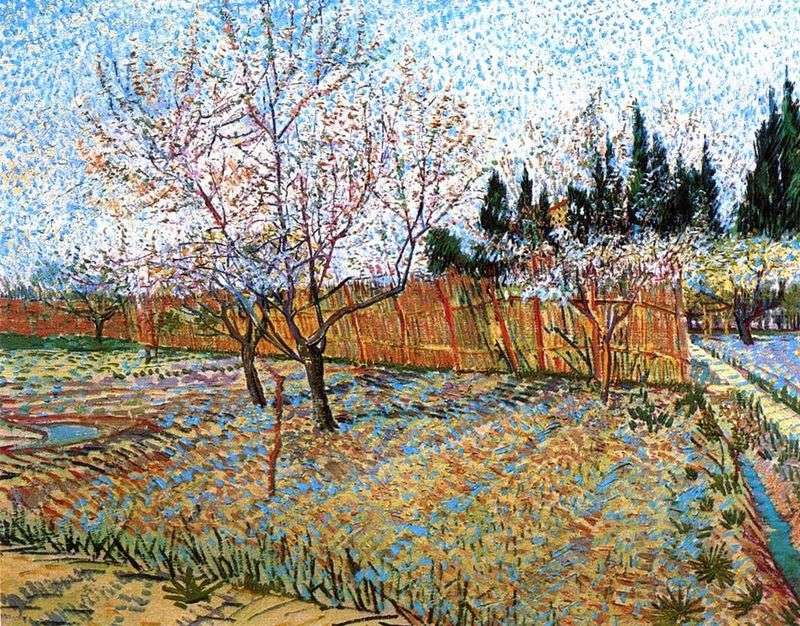 In Arles, Van Gogh dreams of devoting himself entirely to creativity. Having waited for spring, the artist begins to work in nature. Its embodiment in the paintings are picturesque surroundings of Arles under the blue spring sky, village streets, fields and orchards. During this period there is a whole series of works featuring almonds, peaches, plums and pears, covered with delicate spring flowers.
In this picture, Van Gogh portrayed an orchard, fenced with a wooden fence. In the distance, a cypress grove can be seen, and the entire foreground is occupied by an even garden platform, in the middle of which two thin young peach trees rise. The artist used an unusual manner – smears-points spread the picturesque surface of the canvas as a mosaic.
Especially interesting is the sky – it is filled with a very intense in brightness scattered spots of blue and blue on a white background. A bright blue color passes to the ground, where it is enhanced by warm, clean shades of ocher.
This manner is ideally suited to show the freshness of spring air, the tenderness of nature, which begins to wake up after a long winter sleep. Against the background of a bright blue sky, pink flowers of a peach are seen on the fragile branches of a young tree.