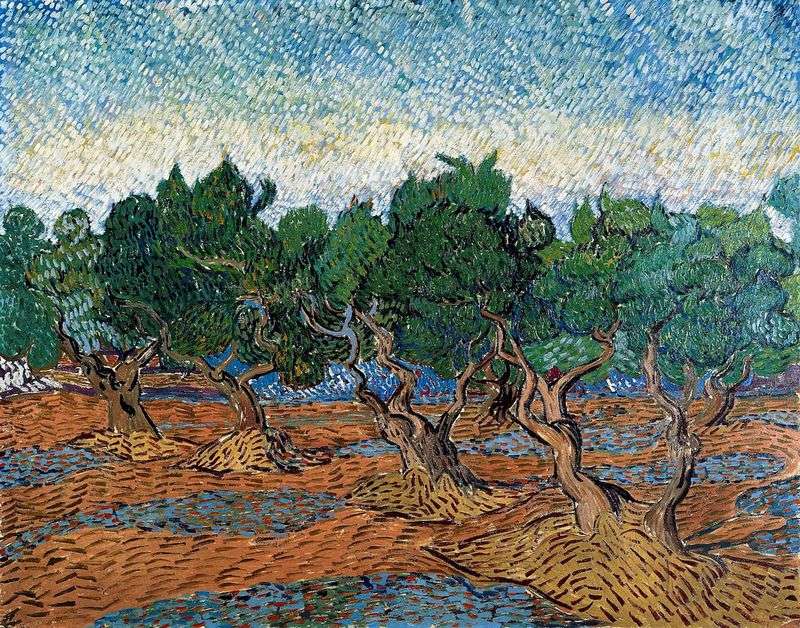 Dutch painter Vincent van Gogh painted his painting "Olive Grove IV" a year before his death in 1889. The artist repeatedly turned to this plot, as he had stayed for a long time in the sanatorium in Saint-Remy. It was a cozy corner, surrounded by cypresses, wide fields, olive trees. These beautiful landscape motivations inspired Van Gogh for creativity. A whole cycle of paintings was dedicated to the artist by an olive grove, in which he depicted lush flowering gardens with spreading trees.
The artist was very fond of nature, therefore in his work it occupies a special place. Olive gardens were located directly under the windows of the painter. Inspired by this nature, he could buy all his savings and paint his landscapes without piling.
The painting "Olive Grove IV" is written with movable strokes reminiscent of the pointillism technique. Thanks to this, the sky seems shimmering, and the trees and earth are in motion. The artist used the minimum number of colors – black, green, yellow, blue and brown. This technique of performance speaks of the quick work of the master. Also, with the help of rhythmic strokes, he betrays the weather with a strong wind that is noticeable over uneven tree crowns.
In the landscape it is noticeable that soon autumn will come, the sky begins to be tightened by clouds, the grass has already turned yellow. The sky lines smoothly flow into the foliage of the trees, then into the trunks, which roots grow into the ground. The painting shows the author's style of the artist, the long strokes and wide strokes are characteristic for the paintings of Van Gogh.
Horizontal rhythms are organic in the composition of the picture. The works of the artist, carrying in themselves the world of dreams and the world of the present, for many years amaze the viewer with his unusual performance and beauty. The painting "Olive Grove IV" refers to neo-impressionism.