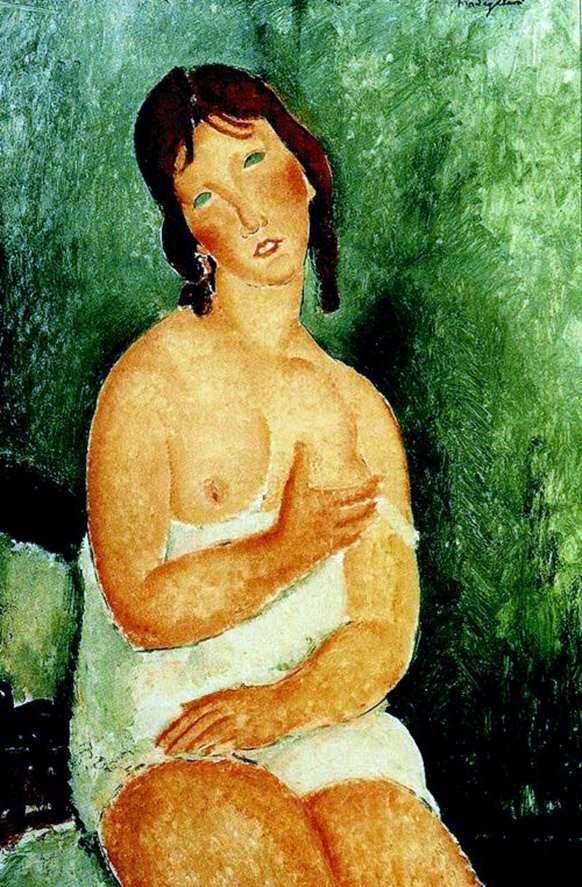 Amedeo Modigliani is a French neo-romanist painter of Italian descent, a representative of the "Parisian school" of painting, who created a completely unique, own discreet style combining elements of modernism and classical naturalism.
Modigliani is one of the few artists of the beginning of the 20th century who retained a craving for picturesqueness and emotionality. Lyricism, humanity, penetration and sadness fill his canvases.
Modigliani as a whole is very close to Matisse, however, the decorativeness of the latter is replaced by all the liveliness of human nature. It is not by chance that the main direction of Modigliani's work is nude female nature and female portraits. With the highest skill, the artist conveys the finest nuances of the plots, absolutely not striving for primitivism.
The refined artistic taste with notes of refinement is displayed in his "Nude". The relaxed figure of a naked woman breathes with temptation and humility at the same time, which creates a unique, weary, erotic content of the picture. Modigliani's traditional manner – elongated, slightly sharp lines, coupled with the clarity of the volume being created – is a reflection of the master's magnificent mastery of sculptural expressiveness in painting.
Female portraits in the artist's work are no less expressive, especially often he portrayed Jeanne Abuteri – his beloved woman who committed suicide after the artist's death. Characteristic for Modigliani is the display in each canvas of his spiritual world, lonely and restrained.
Not the slightest rush of passion, contradiction, search is found in his intimate chamber work. The artist as if took refuge forever in his own detached space. It is hardly possible here to talk about the deliberate limitation of the creative range, rather, it was in this way that Modigliani imagined a universal way of expression.
In his best works, the conciseness of the composition, the decorative flatness, the musicality of the exquisite silhouette and color create a special world of intimate fragile images, as, for example, in the paintings "Elvira", "Portrait L. Survat", "J. ".
Born in Italy, Modigliani moved to Paris at the age of 20, where he lived for more than 15 years. Here he died in 1920, still very young, but already completely emaciated by tuberculosis.