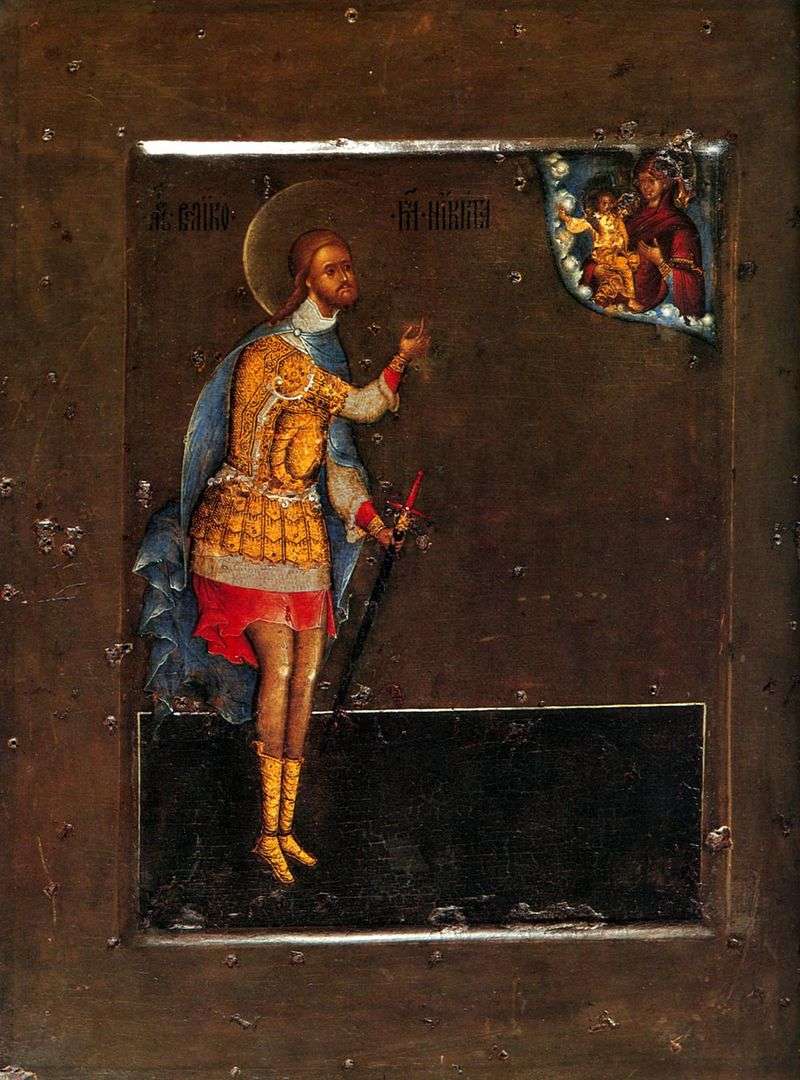 Icon Prokopiya Chirina "Nikita Warrior" comes from the Annunciation Cathedral in Solvychegodsk. On the back of it, under the upper key, there is a cursive inscription: "Summer [7101], this icon was painted on Moscow by the icon of Prokopey Naugorodets, and this image is engraved with silver and gilded and decorated with stones and pearls […] in September [15] ] den by the structure of Nikita Grigoriev's son Stroganov. " On the upper key there is a stigma of the Stroganovs' house. The icon was the central part of the triptych, on the doors of which the life of St. Nikita was performed. The leaves and the golden chased frame from the icon are currently kept in the State Historical Museum in Moscow.
Procopius Chirin, as well as other famous icon painters of the late 16th – early 17th century, Istoma Savin, Nazari Istomin and Nikifor Savin, performed a number of works for the Stroganov family – the largest merchants, industrialists and eminent people of the time. The holy martyr Nikita was the patron saint of Nikita Grigorievich Stroganov, who ordered not only a golden chased salary, but, apparently, an icon.
On the icon of Procopius Chirin, Saint Nikita is represented in growth, in a three-quarter turn, praying before the image of the Mother of God with the Child. Similar images of saints before Christ or the Mother of God, widely spread in the 16th and especially in the 17th centuries, along with traditional frontal images, expressed the idea of intercession, mediatory prayer. St. Nikita is depicted in full military vestments: in his left hand he holds a sword, the right one is stretched to the image of Our Lady in the clouds. A dense dark green background means that the icon was intended for a salary.
Unlike several provincial and archaic works of style, which came directly from the Solvychegodsk icon-painting workshops, the icons of the Moscow "state masters" represent one of the most elitist and refined art phenomena in the Russian art of the late Middle Ages, whose origins lie in the Moscow court culture. Like most "Stroganov" icons, the icon of Procopius Chirin is small in size, with small, carefully traced details.
The special refinement of the picture and color, the abundance of the finest ornament, drawn by gold and silver lines, bring these works closer to the book miniature, engraving and jewelry art of the previous time. The special fragility, elongated proportions, the abundance of gold in clothes and the glare of light in a personal letter create a disembodied, light-permeated image, similar to Heavenly, heavenly vision and reminiscent of the perfect spiritual beauty of the mountain world.