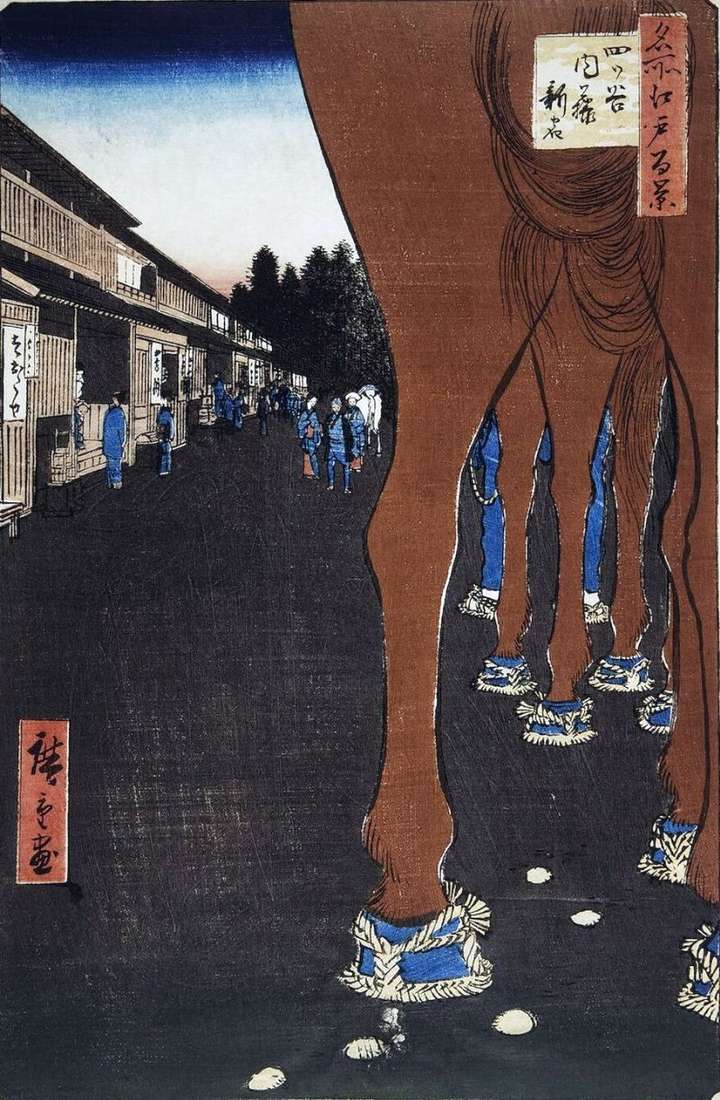 Further from the gate of Yetsuyu, on the Kosykaido tract there was a western outpost of Edo Yetsuyu Okido, even further from the outpost was the first station on this tract – Naito Shinjuku. It was founded in 1698, when the government of Bakufu forced the Governor of the Prefecture of Sinei Takato – Naito Wakasa no kami to return part of the land on which stood his mansion. There were built houses, a post station for changing horses. Hence the name of the quarter – Knight Shinjuku.
The composition of this engraving is unusual: the viewer is at the level of the horse's groin, which
occupies almost half of the first page of the sheet. On the hooves of horses – special sandals made from straw, which were used in Japan instead of metal horseshoes. The legs of the groom standing in front of the horses are not immediately noticed, as they are almost shod in the same sandals. This is a joke, a kind of rally of the artist.
On the left – a string of tea houses, hotels, shops, entertainment. In the depth of the sheet is a grove, beyond which there was a pier on the Tamagawa River. The color changes of the late edition are most concerned with the far plan of engraving. The bright red strip behind the tree crowns gradually turns into a dark blue, approaching the top edge of the sheet.