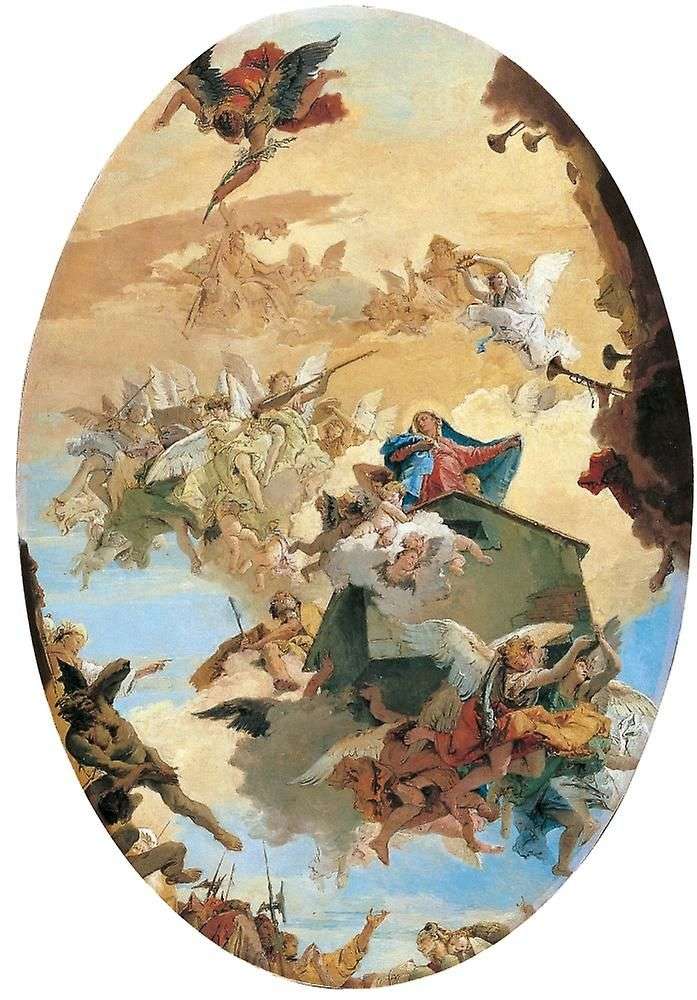 "Moving the House of Maria of Nazareth in Loreto" Giovanni Balista Tiepolo is one of two fresco sketches for the Venetian Church of Santa Maria of Nazareth. The second is stored in the Paul Getty Museum in Los Angeles. The fresco itself was destroyed in 1915 during the bombardment of the temple by the Austrians.
The complexity of the work was that the artist had to fit the picture into a narrow oval space between the paintings of Mangozza's Colonna, the famous quadraturist. Creating the effect of the vertical depth of the sky, Tiepolo breaks the image into registers, emphasizing the density
of the characters in the lower and maximally highlighting, visually facilitating, the upper plan with a barely-planned, exquisite graphics.
According to legend, St. Helena, the mother of the Emperor Constantine, erected a church over the house of Mary in Nazareth, where the young Virgin with the divine message was Gabriel. At the end of the thirteenth century, when the Turkish threat arose, the three walls of the building were moved to the town of Loreto in papal possessions by members of the Angels' family that ruled Epirus, under whose protection Nazareth was. The legend "adapted" the surname of the rulers and informs that the angels moved the house and lowered it into the laurel grove of the town in the north of the Adriatic.