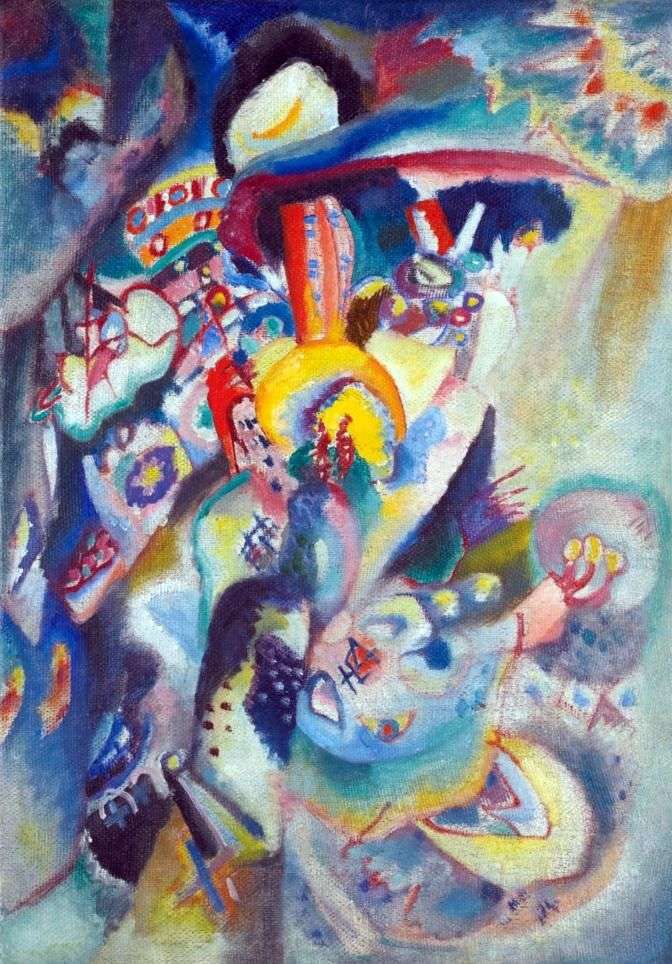 "Moscow II", written by Kandinsky in 1916 – one of the most beautiful paintings of the "Russian period", located in private collections. The turbulent events that brought the artist back to his homeland, woke up the love of his native city, stored in his heart all these years. In 1916-1917, inspired by the return, Kandinsky wrote several "Moscow" paintings. This kaleidoscope composition, saturated with a vigorous color energy embodies the beauty of Moscow's dynamics, as seen by its artist.
"The sun melts the whole of Moscow in one piece, sounding like a tuba, with a strong hand shaking the whole soul. No, this red unity is not the best Moscow hour. It is only the last accord of a symphony developing in every tone a higher life that makes the whole of Moscow sound like a fortissimo of a huge orchestra.
Pink, lilac, white, blue, blue, pistachio, flame-colored houses, churches – each of them as a separate song, – wildly green grass, low humming trees, or a thousand frets singing snow, or alegretto bare branches and twigs, red, hard, the unshakable, silent ring of the Kremlin wall, and above it, all exceeding, like the solemn cry of the world-forgetting alilluya, the white, long, slenderly serious feature of Ivan the Great. And on his long, eternal longing in the sky, a strained, elongated neck – the golden head of the dome, which is among the other gold, silver, motley stars surrounding its domes, the Sun of Moscow "In a letter to Munter on June 4, 1916, Kandinsky writes about ideas for his new Moscow works: "I would like to write a great landscape: collect individual elements and combine them on canvas.
This picture should be like an orchestra […] at 8 pm I went to the Kremlin to see cathedrals such as I want to portray them. New wealth they unfolded before my eyes. "A few weeks later he again wrote to her:" It is gradually developing in my imagination. What was only a fantasy, now takes a physical form. What this idea lacked was depth and sound, very serious, complex and at the same time simple. "
Then, after two and a half months of working on the canvas, Kandinsky writes: "You know that I had this dream – to write a big picture inspired by happiness, the joy of life, or the universe." Suddenly, I realize the harmony of colors and shapes originating in this world joy ". It is interesting that in both paintings, "Moscow I" and "Moscow II" in the very center of the canvas, a pair in traditional Russian costumes is distinctly distinguishable, facing the viewer and seemingly contemplating with him the majestic symphony of the capital. PS: the picture was sold in London at the Sotheby's auction on February 3, 2015 for $ 9.48 million.