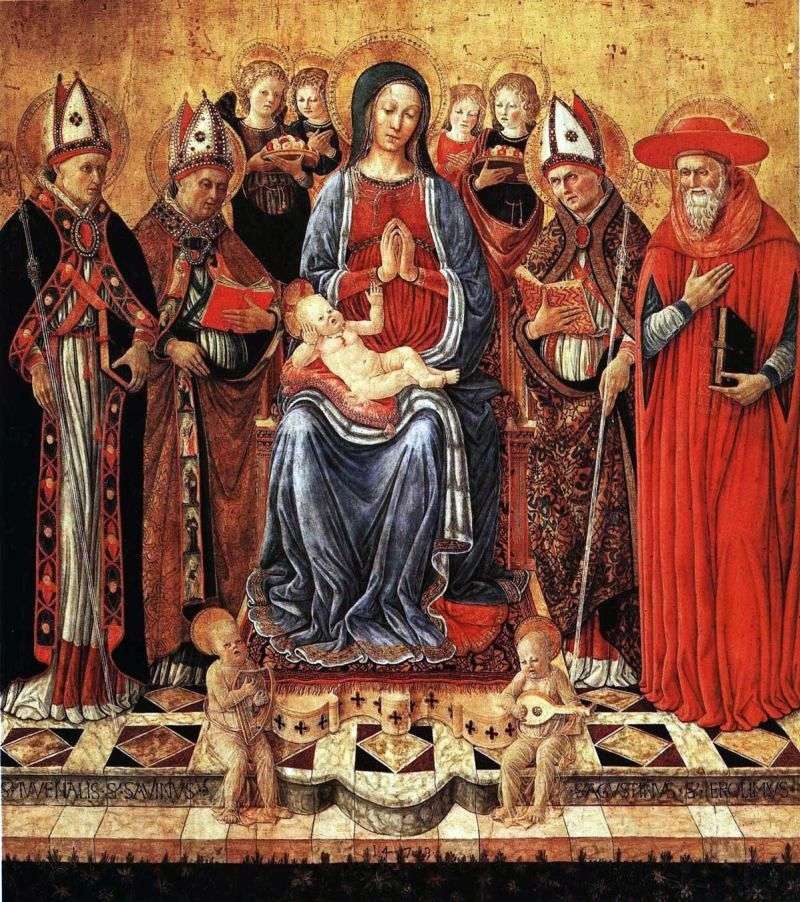 This is the most significant altar picture of the XV century in the Budapest Museum. Originally she decorated the chapel of St. Sabina Cathedral in Orviego, was owned by the Counts of Marciano and the family of Piagrangli. In accordance with the tradition of the time, St. Sabine, whose name was called the chapel, is depicted in the painting standing at the right hand of Mary. On the bottom step of the throne you can read the date – 1473 year. The work belongs to the last period of creativity of the artist Giovanni Boccati.
The master worked mainly in two cities – from 1445 to 1458 in Perugia,
and from 1458 to 1470 – in Camerino. During his stay in Padua he could get acquainted with the works of Mantegna and Pisolo. Their decisive, courageous style is felt in the much later works of Boccati, in particular in the style of a Budapest painting. With art Piero della Francesca Boccati met in Urbino.
On the altar picture from the cathedral in Orvieto, the influence of the great Frances reflected in the form of the head of the angels. Along with all these influences in the Budapest picture, one can not help but notice that the author was familiar with the Siena school, primarily with the art of Matteo di Giovanni. Maria's head, apparently, was not written by Boccati, but by another master, who is influenced by Perugino and Pinturicchio, who has a smoother writing style.
Perhaps it was Antonio da Viterbo, or Pastura. It remains a mystery why this most important part of the picture – Maria's head was written not by Boccati himself. If Maria's head was written after all, then why in a few years, at most a quarter of a century later, she was rewritten. In all likelihood, the change occurred at the request of the owner of the painting, who wished the somewhat ruder type of Mary created by Boccati, to make it more subtle, to modernize it.