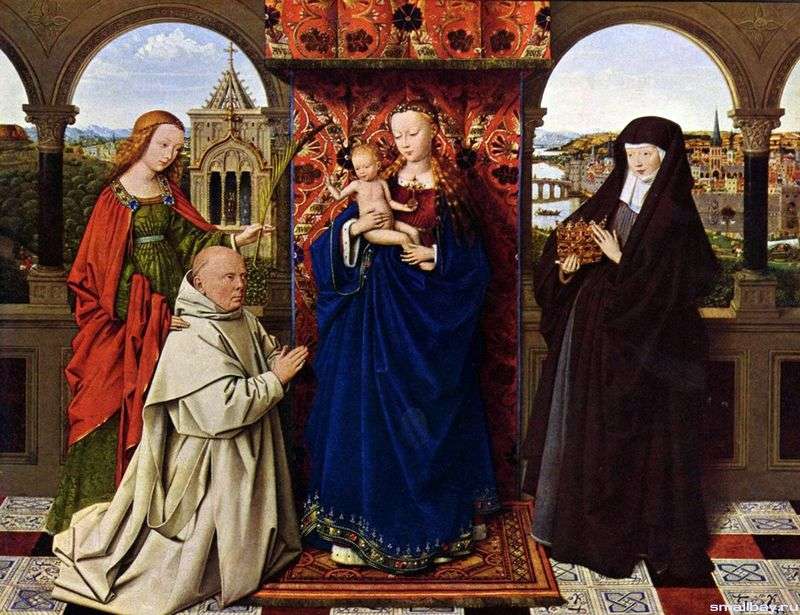 The painting "The Madonna with the Cartesian Monk" was painted by the artist around 1425. In the paintings of Jan van Eyck it is quite obvious that any object, which seems to have been given with all sorts of detail and persuasiveness, has some properties that largely deprive it of its everyday naturalness.
In fact, one can not even say that the artist sees the subject in the totality of his real-life features, for Jan van Eyck focuses primarily on those qualities that can express the beauty and enlightenment of life. It is no accident that objects in the Dutch painting of the 20-30s of the 15th century seem to be weightless. Already these properties alone allow us to speak about the presence in the method of the brothers Jan and Hubert van Eyck of a peculiarity that sharply distinguish their creativity from the painting of the artists of the Italian Renaissance.
Even more distinctly, this uniqueness manifests itself in the vision of man. The artist Jan van Eyck in his painting "Madonna with the Cartesian monk" does not seek genre reliability and self-imposed monumentality of the image of the Madonna. It is characteristic that the people in the works of Jan and Hubert van Eyck, as well as their contemporaries are not so much active actors, as a kind of testimonies and real incarnations of perfection and beauty of the universe. Artist Jan van Eyck gravitates to reality, but tries to catch in it a reflection of the eternal beauty. Therefore, reaching the greatest acuteness in the transfer of nature, the Dutch painter Jan van Eyck never resorts to its genre everyday interpretation.