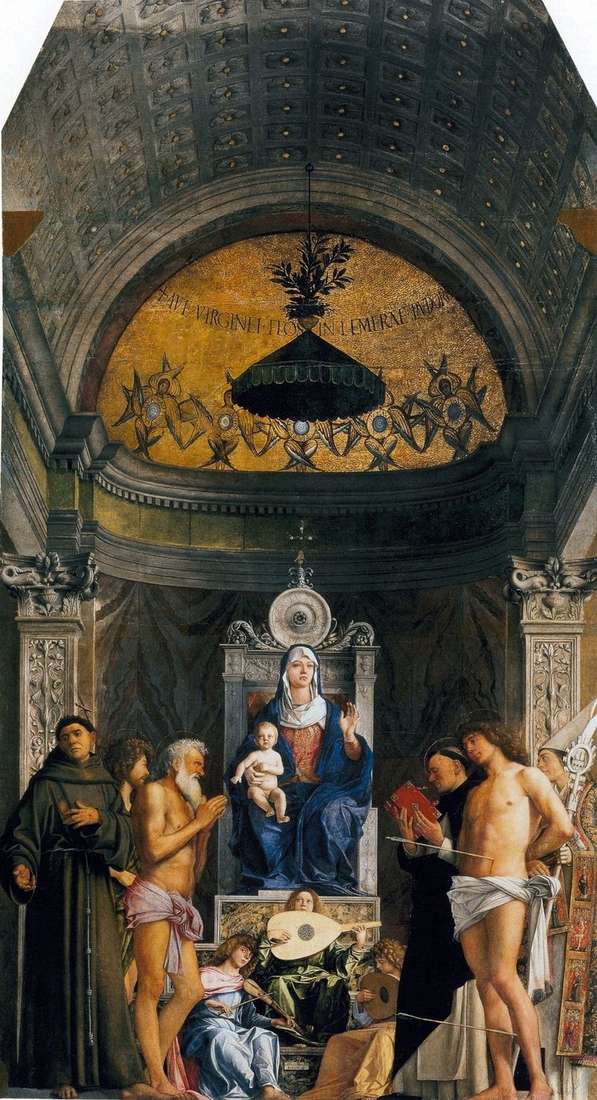 Bernard Bernson called Giovanni Bellini the greatest Venetian master of the XV century. The artist began to write about 1449, and ten years later he became the head of a large workshop. By the time the altar was built for the church of San Jobbe, his manner of writing was already formed.
At the foot of the high throne, on which Madonna and Child solemnly sits, blessing those who came to worship her, are the angels playing music. Their robes are sky-blue, sunny-yellow, the colors of luscious green – glisten with precious overflows, movements that extract heavenly sounds are full of graceful harmony and
create a virtual circle. Her lines echo widen to the periphery of the huge board, echoed by a round "rose" over the head of the Madonna and along with the outline of the arch, the apse and canopy sound already a powerful chord.
The figures are made in full size. Bellini placed two naked saints, Jobbe and Sebastian, on the flanks of the throne of Mary, next to them – the saints John the Baptist, Dominic and Louis Toulouse. The architecture and decor of the apse, covered with golden smalt, resemble the Cathedral of San Marco. On the golden background, the words "Ave, the pure flower of virgin chastity" are clearly read. The composition was commissioned by the artist to the church of San Jobbe and San Bernardino, in Canareggio. It is believed that this was due to the plague of the sea.