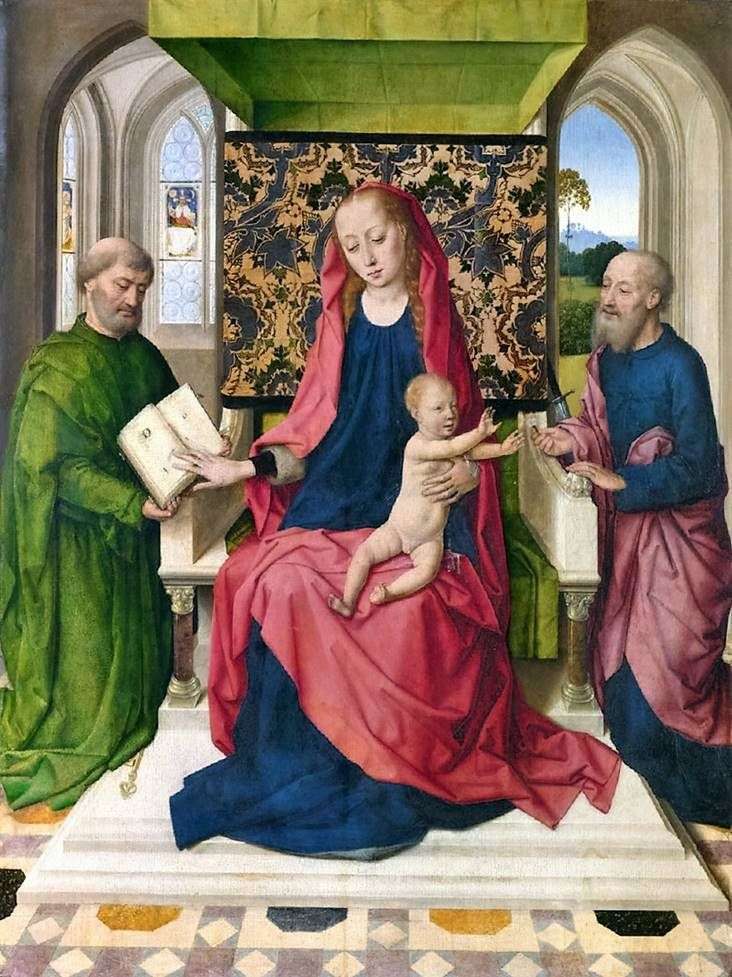 Madonna and Child on the throne with Saints Peter and Paul – a product of the mature period of the master's work, but it reflected the advantages and disadvantages of Boates. In work, exactly in accordance with the prospective reduction, diagonals are built-the canopy over the Madonna's throne, the seat of the throne, its podium, and the checkers of the floor. All of them converge at one point in the center of the picture.
The Virgin Mary sits motionless and right on the throne. The type of her face resembles the images of Rogier van der Weyden. But the Madonna of Bouts is calm and thoughtful,
she as though overcame mental tension. With one hand she touches the book that St. Peter holds, and the other holds the Infant drawing the pens to the flower of the carnation in the hands of St. Paul. These details are symbolic in the work. So, the book in the hands of St. Peter is the book of destinies, the carnation is a symbol of ascension to heaven.
The apostles are so busy with what is happening that they put aside their unchanging attributes – the key of St. Peter and the sword of St. Paul. In this small canvas, Boyts managed to achieve complete harmony in the image of a closed space and landscape, nature and man.