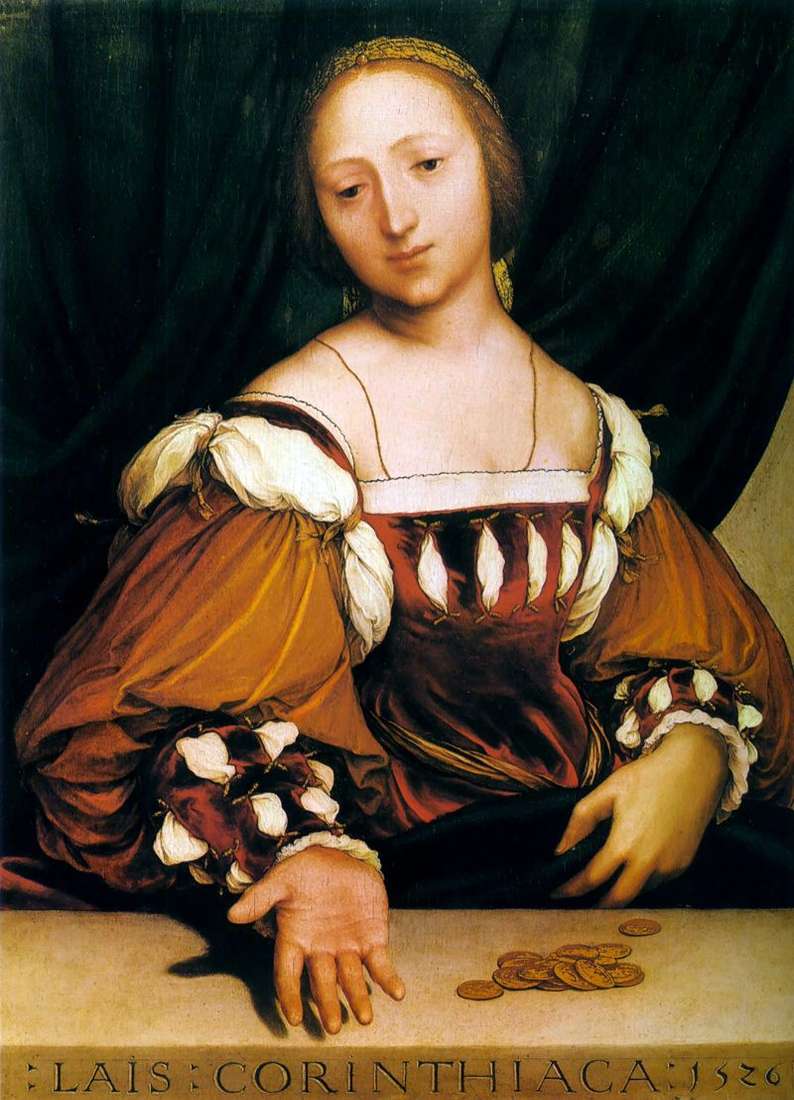 In the image of the famous courtesan from Corinth, taken by an artist from classical literature, Magdalena Offenburg is depicted. Interestingly, she is dressed in European fashion of the early 16th century. In ancient Greece clothes were not sewed, and elegantly draped a piece of canvas on the figure, which was then fixed with hairpins.
The artist created an image of a touching, tender, romantic woman. A beautiful young hetaera is sad, obviously saddened by her fate. She looks with bitter bewilderment at the gold coins earned by her hard work the priestess of love.
Ancient Greek courtesans – hetaera, although they were priestesses of love and were paid for their services, were not public women in the modern sense of the word. They were very beautiful, vyskoobrazovannye, with beautiful manners of women. They have been trained for many years, since childhood, in the sciences and arts in special educational institutions. Including the art of love. Ancient Greek hetaera were engaged in sports and dances, studied poetry, music, singing, were literate and well-read, able to maintain a conversation with very educated people.
Heteros possessed a rather high status, they became worthy friends of the greatest minds and artists of that time. Many famous hetaera became wives of outstanding personalities. For example, Aspasia, which married Pericles, Gerpilis – Aristotel's favorite woman and his son's mother, Tais of Athens – the beloved of Alexander of Macedon, and after his death – the wife of Ptolemy and many others. Ancient Greek Geter should in no case be put on par with prostitutes from the Athenian port of Pirrei, which the ancient Greeks called "Pornaya".