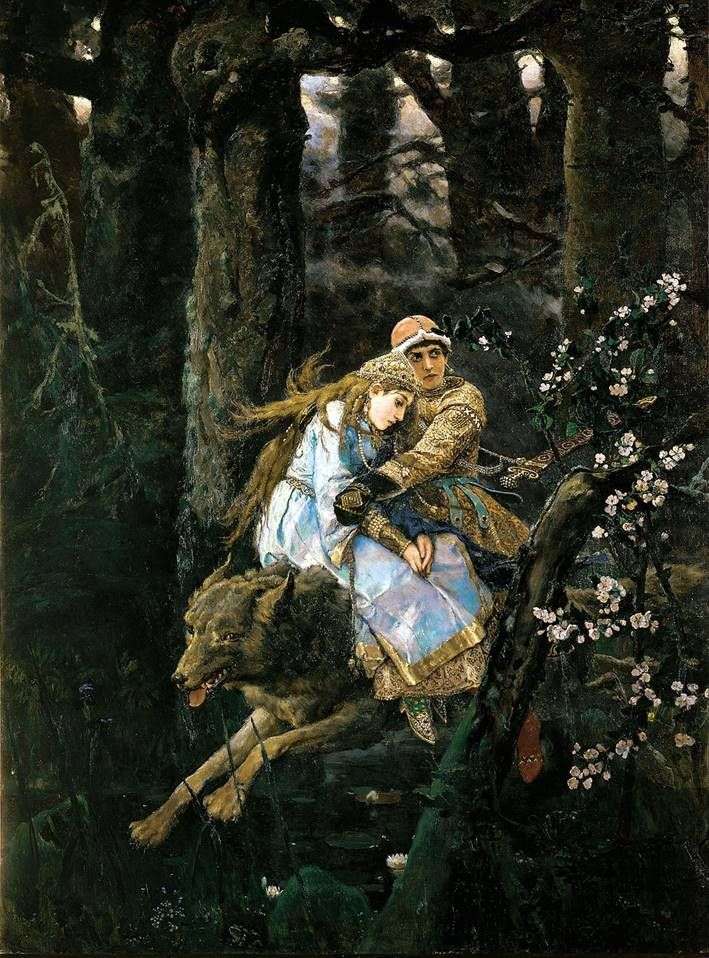 The picture of Viktor Mikhailovich Vasnetsov "Ivan Tsarevich on Gray Wolf" is nothing more than an illustration of the ancient story "Ivan Tsarevich and the Gray Wolf." The idea itself begins in the period of the author's work in the Vladimir Cathedral.
The plot itself of the picture speaks of overcoming the difficult path that has come down on Ivan Tsarevich through violation of the prohibitions. Looking at the picture, it is clear that Ivan is racing through a dark thick forest.
In the foreground, the author arranged a swamp with water lilies, an old, sagging apple tree
with flowering branches. Perhaps, by this he wanted to show hope for the best. Among all the dull and dark colors, the glance immediately finds the bright spot of Elena the Beautiful in the embrace of the Tsarevich. They, sitting on the Gray Wolf, escape through the dark forest from the evil king.
Ivan Tsarevich is depicted in beautiful royal clothes. Proudly and confidently he sits on a wolf, his gaze is fixed afar, and in his eyes one can see faith in salvation. Gently, but at the same time, he strongly, pressing Elena to her, feeling responsibility for her salvation and destiny. At the same time, Helen's beautiful face shows both a fright for their future and submissiveness to fate and their savior. Her hands seemed to fall helplessly on her knees, and her head rested on Ivan-Tsarevich's reliable shoulder.
In the background are depicted the trunks of powerful ancient oaks. Its color is darker and reflects fear and danger. The figure of the wolf shows how quickly they escape from possible persecution. It is also impossible not to notice that against the background of a dark forest the wolf has lighter and warmer tones. I think the author wanted to convey to us the idea that everything that is not done for salvation and justice is right. And there must always be faith and hope in the best.