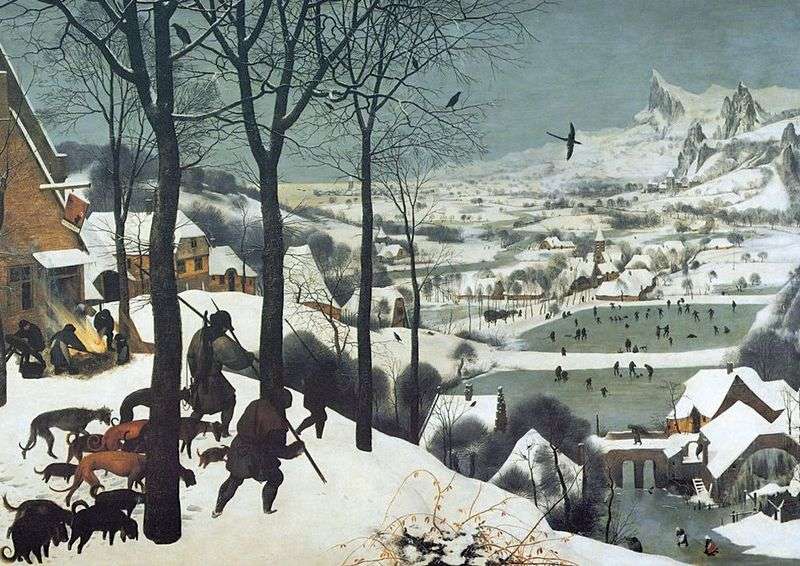 This is the best picture from the series "Seasons", written in oil on a wooden board – a lyrical work, subtle, penetrating.
Before us – a spacious, dazzlingly beautiful landscape.
Up to the furthest horizon the terrain is buried in deep soft snowdrifts, cut by a mirror of ice. On a snow-covered hill hunters with a pack of dogs walk, they return home from hunting to the village. Hunters carry sharp peaks and yagdtashi. Behind one of them is a dead fox. Hunters do not disappear, do not dissolve in a huge landscape. Their large figures are clothed in coarse dark green and red-brown
clothes, which, against a background of white snow, acquire unusually distinct contours and become majestic. The snow has recently fallen: the hunters' feet fail and leave deep traces in the snow.
To the left – the inn "The Shepherd". The signboard depicts the patron saint of hunters Saint Hubert. Here, a group of people is busy with an important matter: a woman races a fire and rakes ash, the peasant tosses a bundle of straw into the fire. A child is standing next to him, looking at the fire and warming himself. Just here they smoked a boar carcass.
Above the hill and the trees, above the houses and the plain, above the people and the mountains is a smooth light winter sky. The air seems to be motionless, as if it were crystal.
Naked trees froze in the frosty air, their dark trunks stand in a harmonious sequence. Ravens sit on bare branches. The black bird seems frozen on the fly. Like a black cross, she marks the place in the picture where the mountains and the sky meet.
Looking from the hill, we see: there is a village, and in the distance, at the foot of the mountains, there is a castle. White snow cover did not hide, did not cover the variety of elements in the landscape. The plain is cut by a river so that its sharp bends are clearly visible. In the frozen river, streams and ponds, the sky reflects. Between the ponds lies a road that runs away into the distance. To the left, at the horizon, a frozen sea, on its bank – a city with a high church tower and snow-covered roofs. At the shore – boats frozen in ice and ships.
Children play in the ponds chained with greenish ice. The overcast sky also seems grayish-green.
The picture causes the viewer a feeling of fresh winter frosty air, a feeling of vivacity, freshness and joy.