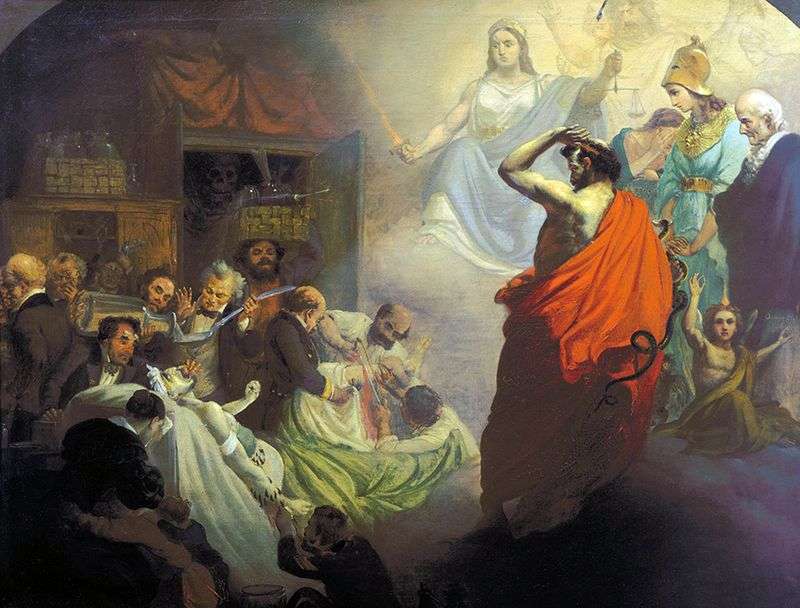 The painting was donated to the Tretyakov Gallery by the widow of Dr. Nikolai Gabrilovich, Larisa Gabrilovich-Maslova. And Nikolai Gabrilovich, himself a famous St. Petersburg homeopath, received it as a legacy from his father, also a homeopath, Yevgeny Gabrilovich.
As the picture came to Eugene Gabrilovich and under what circumstances Beydeman wrote her authentically unknown. This picture is well known among homeopaths, and its copies are exhibited in several European.
In the picture "Homeopathy, looking at the horrors of Allopathy", a dialogue-confrontation of two medical directions – Allopathy with terrible surgical "tools" and calmly wise Homeopathy is presented already in the middle of the XIX century.
In the center of the picture – Aesculap, indignantly waving his hand. Behind him is the sad Hahnemann. They fuss, sawing off the patient's leg and pouring in it all sorts of rubbish, allopaths, in the guise of which one can recognize famous professors of that time. In the doorway, the skeleton is Death, waiting for the Allopaths to finish their work.